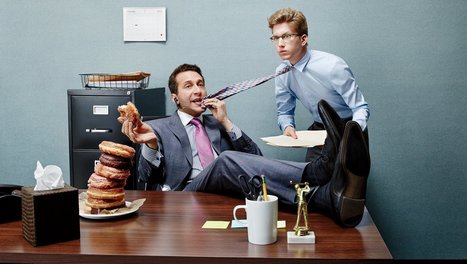 New research confirms what they say about nice guys...[or at least the result is a lot more nuanced that it seems.
________________________
Givers dominate not only the top of the success ladder but the bottom, too, precisely because they risk exploitation by takers.
________________________
Excerpted:


We have some well-worn aphorisms…courtesy of Machiavelli ("It is far better to be feared than loved"), Dale Carnegie ("Begin with praise and honest appreciation"), and Leo Durocher (who may or may not have actually said "Nice guys finish last"). More recently, books like The Power of Nice and The Upside of Your Dark Side have continued in the same vein: long on certainty, short on proof.
So it was a breath of fresh air when, in 2013, there appeared a book that brought data into the debate. The author, Adam Grant, is a 33-year-old Wharton professor, and his best-selling book, Give and Take: Why Helping Others Drives Our Success, offers evidence that "givers"—people who share their time, contacts, or know-how without expectation of payback—dominate the top of their fields. "This pattern holds up across the board," Grant wrote—from engineers in California to salespeople in North Carolina to medical students in Belgium. …[T]he book appears to have swung the tide of business opinion toward the happier, nice-guys-finish-first scenario.
And yet suspicions …remain—fueled, in part, by …Steve Jobs, by Walter Isaacson. …Since Steve Jobs was published in 2011, "I think I've had 10 conversations where CEOs have looked at me and said, 'Don't you think I should be more of an asshole?' " says Robert Sutton, a professor of management at Stanford, whose book, The No Asshole Rule, nonetheless includes a chapter titled "The Virtues of Assholes."
In Grant's framework, the mentor in this story would be classified as a "taker," which brings us to a major complexity in his findings. Givers dominate not only the top of the success ladder but the bottom, too, precisely because they risk exploitation by takers. It's a nuance that's often lost in the book's popular rendering.
…[M]anagement professor Donald Hambrick, of Penn State [knows] academic psychology's definition of narcissism—a trait Hambrick measured in CEOs and then plotted against the performance of their companies, in a 2007 study with Arijit Chatterjee.
…Hambrick…chose a set of indirect measures: the prominence of each CEO's picture in the company's annual report; the size of the CEO's paycheck compared with that of the next-highest-paid person in the company; the frequency with which the CEO's name appeared in company press releases. Lastly, he looked at the CEO's use of pronouns in press interviews, comparing the frequency of the first-person plural with that of the first-person singular. Then he rolled all the results into a single narcissism indicator.

How did the narcissists fare? Hambrick …ound that the narcissists were like Grant's givers: they clustered near both extremes of the success spectrum.


Related posts by Deb: