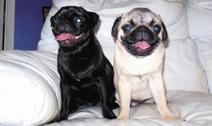 Through the fundraiser, library patrons who make a $7 donation to the Library Foundation receive a bookmark and a doggie library card that gets them a bag of dog treats every time materials are checked out.
"This way your dog is happy to see you when you come home from the library and he [or she] has treats to chew on — not your library books," McBride said. "For a $15 donation, you get a library card, bookmark and a flashlight, because outside of a dog, a book is a man's best friend. Inside of a dog, it's too dark to read. And for a $35 donation, you get a T-shirt."
The puppies who visited the library with the Animal Planet crew attended story hour with local children and received their doggie library cards.
-Kathy Chang