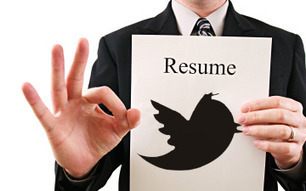 In essence, a Twesume is a short bio or resume condensed into 140 characters or less, which can be tweeted, messaged or emailed to potential employers.

Twesumes help job seekers get noticed by companies who use social recruiting. With the Twesume, a job seeker can introduce himself and engage with an employer in less time (and space) than a traditional resume and cover letter could ever manage.

How Can I Write My Own Twesume?

All you need is a Twitter account and something to say. Once you have your Twitter account squared away, write your very own Twesume. While the Twesume can be anything you like, try to include this information: what you do, an accomplishment, a goal, skills and/or a link to a detailed profile or website.
Have you ever heard about Twesume?
It could be a short bio or resume for your career by using twitter.
Here are some tips. Check it!

Example:
Santa Claus: World traveler and toy expert. 300+ years management experience. Looking for position in entertainment industry. http://tinyurl.com/c9ursdp #twesume
Via
witszen
,
streetsmartprof