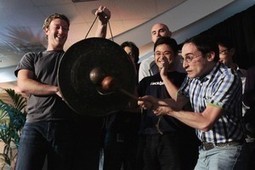 "Facebook recruiting is here... Facebook announced its long-awaited job board this morning...what's likely to be an important new source of revenue for the company."
"After a yearlong "Social Jobs Partnership" with the U.S. Department of Labor and other government agencies, the company released the Social Jobs Partnership application today, an interactive job board that aggregates 1.7 million openings from recruiting companies,already working on the platform, including Work4 Labs, BranchOut, Jobvite, DirectEmployers and Monster.com."
"The page allows users to search for jobs by location, industry and skill, apply to them directly through Facebook, and then share the jobs to their social network."
http://www.forbes.com/sites/jjcolao/2012/11/14/the-facebook-job-board-is-here-recruiting-will-never-look-the-same/
Via
streetsmartprof