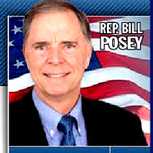 "WASHINGTON, DC – Bipartisan legislation was introduced by U.S. Representatives Bill Posey (R-FL) and Debbie Wasserman Schultz (D-FL) to help aid breast cancer patients in their recovery following surgical procedures.
There is the risk of infection following breast cancer surgery due to the placement of post-surgical drains. Medicare currently covers the cost of post-surgical water resistant coverings in some circumstances, but not breast cancer surgery.
The Post-Mastectomy Infection Reduction Actauthorizes Medicare to also extend this coverage for breast cancer patients when it is determined to be medically necessary to reduce the risk of infection.
"If a patient develops a surgical site infection and has to be readmitted to the hospital, not only is this bad for the patient but it would likely cost thousands of additional dollars," said Rep. Posey. "The small cost of water resistant coverings in cases where the physician believes they are medically necessary to prevent infection will save lives and money by reducing the risk of infection. As a cancer survivor myself I can understand the struggle that so many with cancer and other diseases go through on a daily basis."
Via
Susan Zager