Scoop.it!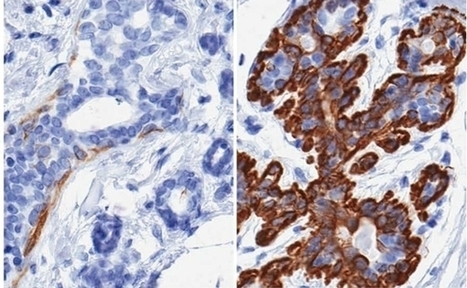 A study in mice suggests that the earliest form of breast cancer may one day be treated without surgery
Graham Player Ph.D.'s insight:
Study results published in Science Translational Medicine earlier this month, suggest that it may be possible to stop some abnormal cancer growths from becoming potentially life-threatening tumors.

About 25% of newly diagnosed cases of breast cancer in the U.S. consist of ductal carcinoma in situ (DCIS), which has long been thought of as the earliest stage of cancer. As there is no way of knowing whether DCIS will spread and develop into a tumor, standard treatment is often a lumpectomy (in which the abnormal growth and some surrounding tissue are surgically removed) or sometimes a mastectomy, often followed by radiation and chemotherapy.

A treatment to prevent DCIS lesions from turning into invasive tumors is now being explored by researchers at Harvard University, which injects an RNA particle that interferes with or turns off a specific, cancer-causing gene. The treatment is called RNA interference, or RNAi, and tests on animals so far are producing promising results.