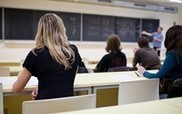 On many campuses, the stale, passive lecture model is being replaced by a more dynamic way of teaching and learning—one in which students collaborate to "make meaning together."
As students come to expect more interactive forms of instruction, colleges are stepping up to meet this need.
To support more collaborative learning experiences, many schools have begun embracing the concept of "flipped learning," a trend that has spiked in popularity. In flipped learning, the transfer of information takes place outside of class, and class time is used for assimilating this information and applying it in new contexts. That's a reversal of the traditional instructional model, when professors would impart knowledge through lectures and students would apply what they'd learned as homework.
Read more on collaborative learning here: http://www.ecampusnews.com/curriculum/how-collaborative-learning-is-transforming-higher-education/