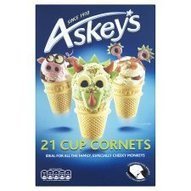 Interested in making ice cream cone cupcakes?
I am keen to try them out as Christmas treats, but have really struggled to find flat cones. Luckily (after some googling) I found some perfect for it!
Askey's is sold in Tesco's (though I recommend getting them online as they are harder to find in shops).
Will have to show the outcome when I get them done...