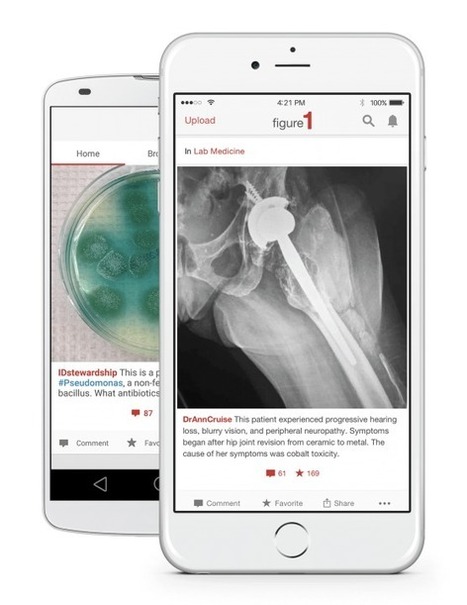 You're probably already on the major social networks — Facebook, LinkedIn, maybe even Twitter. But if you're not on physician-oriented social networking sites, you're missing out.
Doctor social networking sites offer connection, crowd-sourcing, education, and even some fun.
Here are the 9 social networking sites you need to be on, in order of importance. Plus I added a few niche sites for fun.
General connection sites
These are the real must-haves. These sites boast an impressive number of physician users, and offer doctors more than enough utility to justify signing up and playing around.
1. Sermo
Users: 550k+
Target demographic: "Verified and credentialized" physicians worldwide, including physicians from the US, UK, Australia, Canada, Ireland, Mexico, South Africa, Spain, Italy, Argentina, the Netherlands, Denmark, Sweden, Norway, New Zealand, France, Finland, Colombia, Venezuela, Chile, Ecuador, Guatemala, Peru, and Israel. More countries coming soon.
Sermo is the biggest, most successful social network for doctors. It's geared toward connecting doctors who don't know each other so you can collaborate. They call it a "virtual doctors' lounge."
The goal is medical crowd-sourcing, like a Quora for doctors. You can ask real-life medical questions and get real-life answers from hundreds of your peers. One way that Sermo is better than Quora is that it's physician-only, and you can ask questions anonymously.
2. Doximity
Users: 500k+
Target demographic: U.S. healthcare professionals
Doximity is a newer kid on the block. The website is better designed than Sermo and it's almost as popular. Functionally, it's like Facebook and LinkedIn had a baby and it grew up to be a doctor.
Doximity is aimed at connecting you to doctors you already know — colleagues, classmates, and co-residents. The company claims on their website that 60% of U.S. physicians are on Doximity, and quotes Fortune saying they have more member physicians than the American Medical Association. Of course the "Find your profile" call-to-action on the site indicates that some of those physicians have profiles despite not signing up yet.
The LinkedIn functionality comes from data on compensation trends in your specialty and geographic area, a job board, and tools to earn and track your CME credits. It facilitates earning Category 1 credits by reading medical journals, and offers free faxing from your mobile phone.
3. QuantiaMD
Users: 200k
Target demographic: US physicians
Less a social network, and more a learning and collaboration platform, QuantiaMD is like a Lynda.com for doctors. It helps physicians stay ahead by interacting with and learning from experts and peers, on computers, tablets and phones.
Specific utility sites
These are the sites you should join if you need the specific utility they offer.
4. Figure1
Users: 500k+
Target demographic: Healthcare professionals and students in more than 100 countries
Need feedback from other doctors on what you're seeing? With Figure1, you can share images of patient ailments to get other physicians' opinions, and access others' images to educate yourself on rare illnesses.
Scrolling through the images can help you recognize rare conditions in your patients. And if you live in an isolated locale, Figure1 can be a great source of connection to other physicians.
Figure1 protects patient privacy by removing identifying information from the images such as faces and tattoos automatically, as well as having humans review every image before it appears on the app.
Google+ Communities5. Digital Healthcare: Social Media and Online Tools
1387 members
This Google Plus Community connects healthcare professionals, patients, and other stakeholders.
6. Healthcare & Medical Software Information
4486 members
Find information about software designed and developed for the medical industryin this Google Plus Community.
7. Medical Doctors Medicos Clinical Medicine n Health
7053 members
A good Google Plus Community for international physicians.
8. Medical Doctor
3299 members
A Google Plus Community for medical memes.
9. Medical Apps
5042 members
Discuss mobile medical applications that complement medical training in this Google Plus Community.
Niche sites11. Orthomind
Orthomind is a global network created specifically for the orthopaedic surgeon in mind. Only orthopaedic surgeons can join this network, specializing in improving patient care.
12. Student Doctors Network
Founded in 1999 by medical students and residents, the Student Doctor Network is a non-profit educational website with a single mission: help students become doctors… from high-school to practice.
13. MomMD
MomMD is primarily a forum and job board for female physicians. Like Doximity, you can compare salary data. Like Sermo, you can ask questions of other doctors.
Conclusion
So those are the doctor social networking sites you need to check out. Did I miss any good ones? What are the Facebook groups doctors should join? Let me know in the comments!
Via
Plus91