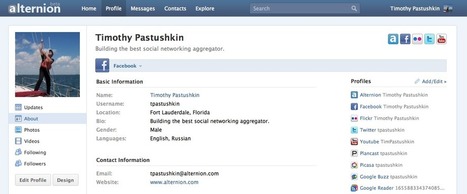 That seems be an interesting tool (I currently testing) to manage your various social media account. Check it out, perhaps it will be useful for you! [note Martin Gysler]
After six months in private beta, we're happy to announce that Alternion is now live and open for everybody! You don't need a beta invite anymore, which means no more wait, just a simple sign up or even simpler sign in with one click via Facebook or Twitter.
With Alternion you can bring all your social web and email to one place. You can connect your profiles from Facebook, Twitter, YouTube, Flickr and any of 220+ other services. You can connect your email accounts from Gmail, Yahoo! Mail, Hotmail, AOL and any other IMAP or POP account. Not only can Alternion be your personal aggregation center, but you can also view and comment on updates, photos and videos of your contacts from other networks. We are building Alternion as your ultimate communication center, social address book and much more.
Many of you have asked when you'll be able to share your Alternion profile with your friends on other networks. The answer is - right now! On your Alternion profile you can collect all of your updates and content from other networks, and share them with your friends from anywhere.
Read more: http://www.alternion.com/blog/2011/11/10/and-we-are-live/