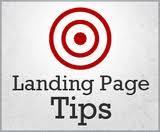 A landing page is a page you want people to land on so you can make a specific sales pitch to match their interests...It's better to target your landing pages for specific interests, then you can optimize those landing pages for each of your marketing campaigns. Here are 6 ways you can design better landing pages for your online marketing:
- Enhance the Functionality: Layout the page so that it is easy to follow, navigate, or scroll through.
- Include a Strong Call to Action: You will make more sales if you tell the visitor what you want them to do.
- Create Eye-catching Graphics: Get your site visitor's attention with the right graphics.
- Keep it Simple: If you try to get too fancy, you could end up watering down your sales pitch.
- Make a Tightly-focused Sales Pitch: Set a desired end goal – only one – and make everything on the page move your reader to that desired course of action.
- Take Out Anything Unnecessary: Everything must work toward the end goal.
Via
Ashok Ramachandran