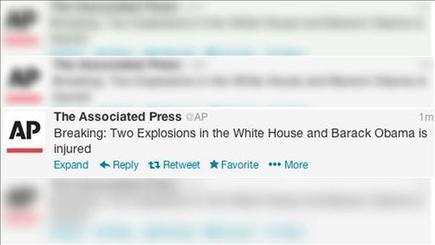 When the words "explosions" and "White House" popped up Tuesday on a verified Associated Press Twitter account, computers in the bare-bones offices of a New York City startup sprang into action.
The computers, housed in the Madison Avenue headquarters of a company called Dataminr, sent alerts to clients like hedge funds and government agencies about the apparent news. Shortly thereafter, the Dow Jones Industrial Average DJIA +0.58% tumbled 145 points in seconds.
But the machines weren't fooled: Before the AP announced that the tweet was a hoax—its account had been hacked—Dataminr's computers generated a fresh alert saying the news may not be legitimate.
Moments later, shares rebounded across the board, and the blue-chip index ended the day with gains greater than before the incident.