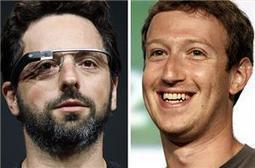 Famed founders of Internet rivals Google and Facebook joined forces to back big-money prizes for research aimed at extending human life.
Sergey Brin and Mark Zuckerberg, along with their spouses, on Wednesday joined Russian venture capitalist Yuri Milner to award 11 scientists $3m each to launch the Breakthrough Prize in Life Sciences.
"Priscilla and I are honoured to be part of this," Zuckerberg said.
"We believe the Breakthrough Prize in Life Sciences has the potential to provide a platform for other models of philanthropy, so people everywhere have an opportunity at a better future."
Art Levinson, who chairs boards at mobile device powerhouse Apple and biotechnology star Genentech, will head the non-profit foundation created to support breakthrough research.
Levinson said he believes the prize will spotlight outstanding minds in medicine and hopes it will help enhance medical innovation.
Zuckerberg, Milner, and Brin's wife Anne Wojcicki will be on the foundation's board of directors.