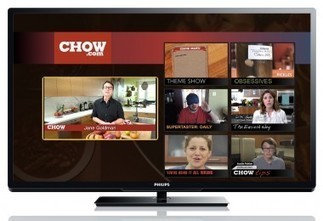 There are now lots of ways to get Web video onto your TV. But in lots of cases that stuff still looks like Web video — clips you're not supposed to watch for more than a couple of minutes at a time.
So here's another attempt to blur the line between Web video and "real" TV: Net2TV, a new service that takes Web clips and tries to create TV-like "channels" designed to be watched from your couch.
Sound familiar? YouTube is embracing the "channel" concept too, because Google thinks that's the best way to get TV-like engagement and ad dollars. But YouTube is always going to be a freewheeling site, designed to be consumed on lots of different screens.
Net2TV's take is much more focused: The company is only interested in getting stuff onto TV screens.