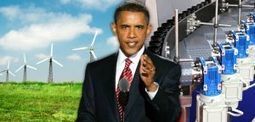 A couple of years ago, President Obama was having dinner with Silicon Valley movers and shakers, including an ailing Steve Jobs. Although no recording of the dinner has been made available, legend has it that the President asked Jobs what it would take for Apple's manufacturing jobs to come back to America.

"Those jobs aren't coming back," replied Jobs.

Whether that is true or not, during the campaign both President Obama and Governor Romney focused a lot of their energies on plans to bring that kind of manufacturing back to American shores. Now that the president has won a second term, what does that mean for American technology and manufacturing?

Mr. Obama's plan was built on education and training, investing in clean energy, and giving tax incentives to companies that bring jobs back to America.

Jobs' grim reply was based on the fact that American workers are no longer trained for the needs of high-tech manufacturing. Obama believes that making college more accessible, both at the university and community college level, is part of the solution for closing that skills gap.

A major focus during Obama's first term was keeping tuition rates down, doubling funding for Pell Grants, and trying to get community colleges to work together with local employers to better train outgoing students for jobs that already exist locally. There's every reason to believe that push will continue.

Another creative idea from the campaign trail was the creation of "manufacturing innovation institutes," where businesses and research institutions work together to make sure that American research and development produces corresponding high-tech manufacturing jobs. How the federal government can spur that idea remains to be seen, but it could be a key step in reshaping the American manufacturing sector and making sure the next Apple keeps its assembly lines here at home.