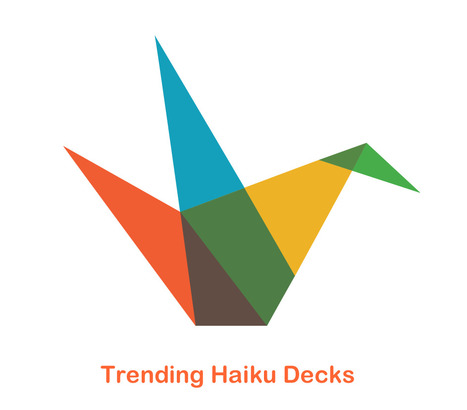 Haiku Deck Stats
Haiku Deck (http://www.haikudeck.com ) continues to be one of our favorite visual marketing tools. We believe slide decks are a new marketing channel and our Haiku Decks views prove the point.

Total Views: 78,940 +107% in a month for a gain of 5,641 views across 37 Haiku Decks

Trends
Warren Buffett Tips for Startups still #1 with 8,521 views
http://shar.es/11m9Bx
(gained 105% in a month or 428 views & is a Featured Haiku Deck).

7 Reasons You Must Curate Content
Fastest TRENDING Deck
http://shar.es/1XRPV7
(2,571 views in first week & now a Featured Haiku Deck)

Holiday Web Design
Next fastest trending deck
http://shar.es/1XRLb1
(1,087 Views or 116% gain in a month)

Gamify Content Marketing
Broke 5,000 views & continues to grow faster than Buffett
http://shar.es/1XRMgv
(5,091 views #4 and up 106% vs Buffett's 105% & A Featured Haiku Deck)

Top Ecommerce Trends 2015 (new today)
http://shar.es/1XRN6k
Has 188 views in three hours

As our content works its way into Haiku Deck's community we see faster lifts for new content. 7 Reasons You Must Curate Content was our fastest deck to clear the 2,000 views hurdle beating Warren Buffett's Tips For Startups. Our Ecommerce Trends Deck, published this morning, may break 500 views its first day.

The team at Haiku Deck are great content curators and they support their "power users" with social shares and mentions. They do such a great job creating online community we created a deck about them too (http://shar.es/1XRNN8 ).