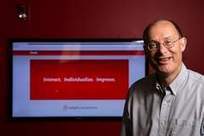 "Boersma, 52, of Pittsford, was inspired by his time in the classroom to design online courses, dubbed Adapt Courseware, to help individualize the learning experience for students.

"At Adapt Courseware, we believe that learning can and should be personalized. Students come to school with varying intellectual abilities, strengths and gaps. Schools can increase the likelihood of success if they deliver an educational experience that recognizes this," said the CEO and founder.

Within the online curriculum, students are presented the material in a manner that suits their learning pace and style. For instance, some students may reach mastery with a few complex activities, while it may take others ten simpler activities to learn the material. Real-time grading helps students stick with or strive for a certain grade..."