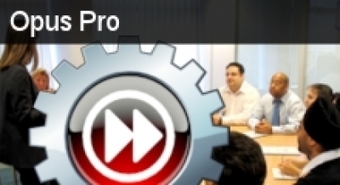 "Opus Pro is a multi-faceted development tool which has been around for over 15 years and yet you've probably never heard of it as it has only recently focussed on the elearning market. It has a wide range of uses from interactive presentations to database applications but throughout its history it has been used regularly for training materials – especially simulations of everything from rig management software to artillery gunnery.

It seems that the developers of Digital Workshop have worked closely with customers to understand their actual requirements and base the new features on making those easier to achieve. The result is a set of unusual features to provide everyday requirements automatically and yet offer the flexibility to make even sophisticated functions easy.


Question Object

The result is the Question Object – a flexible template which provides all the standard question types including:

multiple choice,
drag and drop, and
text input.

However, it also includes special options such as the ability to check lengthy text answers for words and phrases, or to have more than one question on a page, features you'll struggle to find in software twice the price..."