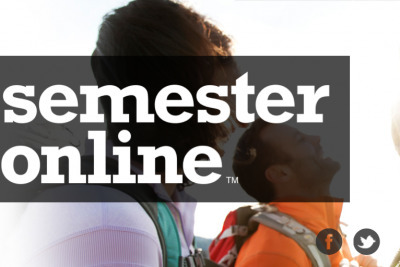 "It's been an edX world for at least a few months and the new kid on the block has just been unveiled. Duke, UNC, Northwestern and more than half a dozen other schools have formed a consortium called Semester Online. It's quite a bit different from edX and it'll be very interesting to see if Semester Online becomes a bigger deal than edX.

10 Key Features Of Semester Online
It's well known that edX is not for course credit and doesn't require tuition. The exact opposite is true of Semester Online. Here's the key features (and differences) courtesy of this morning's New York Times and NBC News coverage:

Semester Online will be operated through the educational platform 2U, formerly known as 2tor.
Students will be able to take courses for-credit but they will not be able to earn a full Bachelor's degree.
Students will be able to raise their hands virtually, break into smaller discussion groups and arrange and hold online study sessions.
According to the NYTimes, the virtual classroom is a cross between a Google+ hangout and the opening sequence of "The Brady Bunch," where each student has his or her own square, the equivalent of a classroom chair. However, with Semester Online courses, there is no sneaking in late and unnoticed, and there is no back row.
Participating schools include Brandeis, Duke, Emory, Northwestern, UNC Chapel Hill, Notre Dame, University of Rochester, Vanderbilt, Wake Forest, and Washington University in St. Louis. There's more space available in the Semester Online website so it would appear that more schools will be added in the future.
It's about as close to an in-person classroom experience as you can get.
The program(s) start next fall.
About 30 online courses in a range of subjects including the social sciences, arts and humanities, science, mathematics and business.will be offered to both enrolled students (at no added expense or tuition raise) as well as to online students who would have to apply and be accepted and pay tuition of more than $4,000 a course. Financial aid from students' own school will carry over in most cases.
Courses will be taught by university faculty following the same curricula used in conventional courses and with conventional techniques such as class discussions
Courses will use technology that allows students and professors to see and talk with one another in real time.
Students will be graded on their work by faculty and earn college credit if they get passing grades..."