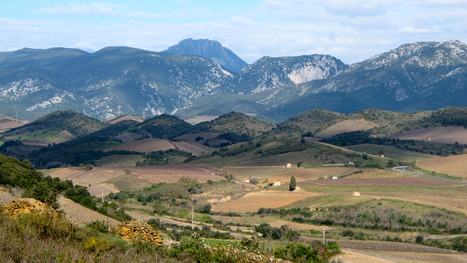 Bugarach is dead centre – taken along from near Maury.
A brilliant mountain day — deep blue sky, warm sun, birds cheeping – what more could one want – well a fresh baguette delivered to the door and a pain au raisin.Some lovely Bach playing and Soph has checked in and is safe and happy.
Some of you may recall back in December that the catastrophic apocalyse was forecast by the Mayan calendar.Sadly they did not survive to witness this non event but here in France there are odd things afoot. One forgets it is an old old culture and these people, despite various invasions, are the aborigines of the land. Thick layerings of whakos or"esoterics" from around the world made Bugarach and its famous mountain the centre of mass visitations last December – from New Agers, interested bystanders, and journalists from as far away as Tokyo. The police and powers that be took it all very seriously, closing the village to all traffic from the 19th onwards. Seems there was a real concern that there might be mass suicides!
The mountain is the highest peak in the Corbiéres, ( 1230m) and is geologically fascinating in that the higher layers are older than the lower ones, due to an "overthrust". The top is millions of years older than the base, so it is known as the "upside down" mountain. And within its bowels are a race of aliens living in space ships, who were supposed to come forth on Dec 21st last year and save all the Bugarachians. Well it didn't happen – but the odd balls are still about, awaiting the next catastrophe.
(...)