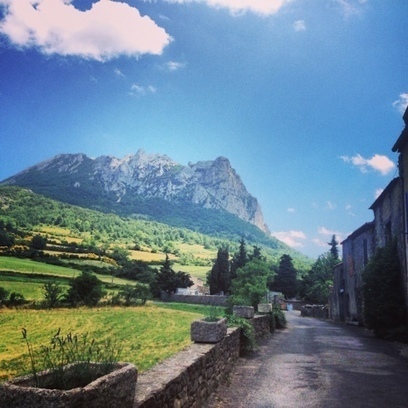 Leaving Narbonne was a big improvement over leaving Montpellier. Having studied the map carefully, we made it out of town with zero wrong turns and soon found ourselves on a nearly empty road making its way into the countryside. The hoopla and excitement of the Tour are great, but we both prefer wide open spaces and solitude to city life. So we were two happy riders as it became increasingly clear that our main companions on this ride would be crickets (who don't confine their noise-making to the evenings around here, and are amazingly loud at times). We were heading to the tiny village of Bugarach, which has a special place in my heart. On my previous trip to France, on the advice of a friend, I had visited Bugarach and stayed at a little slice of heaven called Le Presbytere. Run by a lovely Dutch couple named Sander and Romy, it is about as charming as charming gets. Romy grows lots of veggies in their beautiful garden and Sander incorporates them into spectacular 4 course dinners.
Looming above the town is the Pech de Bugarach, a very cool looking mountain with a great backstory. Google it if you're intrigued. There's not too much else out here besides great roads for cycling and an abundance of climbs.
Getting here took us over our first real climbs with the backpacks, 3 modest sized cols in all. It's certainly slower going with the extra weight but not so bad really. We both love to climb, and it was fun to get out of the flatlands. Climbs bring descents too, of course, and those are always fun. One in particular was as beautiful as any either of us could recall anywhere. Using our trusty Michelin map we made it the 90 kilometers with no wrong turns and few stops, a big improvement from prior days. We arrived to Bugarach and feasted on some delicious bread and Dutch cheese. All in all an excellent day. This place is too nice to leave after just one day, so we stayed today and did a fun ride minus the backpacks, which felt great. Tomorrow we start heading northeast as we make our way toward Lyon and then the Alps, where we'll rejoin the Tour.