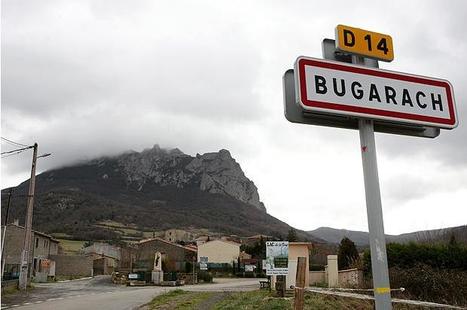 End of days? ... cloud shrouds the mysterious Pic de Bugarach in south-west France


THE Sun has had a close encounter with a mysterious mountain which doom-mongers believe is their only hope when the world ends in 18 days time.
They think the eerie peak conceals a spaceship "garage" manned by extra-terrestrial beings.
Cult members pray the aliens will emerge to pluck them to safety in their craft when — according to the calendar of the ancient Maya civilisation of Central America — Armageddon comes on December 21.
We saw how hippies and New Age oddballs have thrown up makeshift camps in the shadow of the 4,040ft cloud-shrouded summit of the Pic de Bugarach in south-western France.
The mountain, with a network of deep caves, is thought to have inspired the Steven Spielberg movie Close Encounters Of The Third Kind and the classic novel Journey To The Centre Of The Earth.

(...)
David, 30, who quit his telecoms job in the French city of Tours to live in a bus in a forest near Bugarach, told The Sun: "There are serious things going on here — I want to know what these objects are.
"These things exist and people have the right to know."
David, who did not reveal his surname, was not fully convinced that the world will end on December 21 but said: "I do think the capitalist system is going to collapse then."
Street artist and local children's co-ordinator Alain Didier insisted he had seen UFOs.
(...)