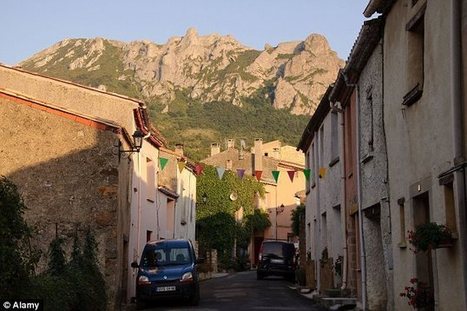 The end of the world is nigh – and that is excellent news for the small French village singled out in doomsday cults as the only place likely to survive the apocalypse.
With esoteric groups circulating a rumour that everyone will perish on December 21 unless they are on Pic de Bugarach, in the Pyrenees, locals can scarcely believe their good fortune.
They have spotted an opportunity to make money from New Agers who believe that extraterrestrials will emerge from the mountain top and rescue anyone who is there on the fateful day.
The French authorities, however, are clamping down on doomsday fever. Police have been ordered to investigate a flourishing trade in end-of-the-world memorabilia linked to the notion – based on a dubious interpretation of the Mayan calendar – that Bugarach is a sacred site.
One landowner, for example, is offering to rent out his four-bedroom house on the slopes of Bugarach for 1500 euros ($1870) a night next month, or a field in which to pitch a tent for 400 euros. He says it is a small price to pay for peace of mind during Armageddon.
"I possess a rare asset, the land of immortality," the owner, who was not named, told La Depeche du Midi, the local daily. A bed and breakfast room 19km away is available on December 21 for 500 euros – even though the person who normally stays there will be outside the "safety zone" and will die, according to the prophecy.
"Authentic Bugarach stones" are selling for 1.50 euros a gram online and a 500ml bottle of water from its stream for 15 euros, a drink will cure a range of health and financial problems, according to the advertisement.
An online French auction offers a "natural pyramid of pyrite iron" from Bugarach while a local winemaker is marketing an End of the World vintage – and a Survival Vintage next year, just in case the prophecy is wrong. The Italian restaurant in Limoux, about 32km to the north, is to put an Apocalypse Pizza on the menu.
Eric Freysselinard, the prefect of the Aude county which encompasses Bugarach, this week expressed indignation over the trade. "I find it really outrageous to abuse the naivety of people and rush into commerce that defies common sense."
He said he had told local police officers to launch an inquiry and clamp down on trade, although it is not clear whether any offences have been committed.
Claims that Bugarach will be taken over by New Agers this month might prove unfounded. But with the French government's watchdog on sects warning that believers might mark Armageddon by committing mass suicide, Mr Freysselinard is taking no chances.
Dozens of officers will block the mountain top and filter access to the village during a four-day period around December 21. Gatherings of any sort will be banned, and anyone landing in a light aircraft will be arrested.
The Times