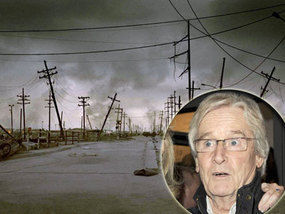 CANCEL the insurance renewal and don't make any holiday plans. As for Christmas shopping, forget it. You won't be needing any of it come Dec­ember because – hang on to your shorts – that's when THE WORLD WILL END SO WE'RE ALL GOING TO DIE!
Or at least the world and the way we live in it is going to change very radically. That is the prognosis according to the ancient Mayans and er... Ken Barlow off Coronation Street.
Bill Roache, the actor who plays him, sincerely believes that on December 12, 2012, the world will move into "a higher vibration" and enter a new, better era. Interviewed in the latest issue of Silent Voices ("the spiritual, paranormal, metaphysical magazine," since you ask) Roache, 80, says: "This will be the Golden Age when a majority will know they are love and they are spiritual beings. The Earth will continue to cleanse itself while mat­erial and negative things will collapse and cease to be."
Roache's long-standing interest in matters spiritual is well-known. For years the story persisted that he was a Druid priest until he denied it, pointing out that he does not follow any formal religion or belief system. But in his latest pronouncements on the future of mankind he is far from a lone voice in the wilderness. He is part of a global movement known as the 2012 Phenomenon whose adherents believe the world will end at the winter solstice on December 21.
(...)
The village of Bugarach (pop. 189) in the French Pyrenees has experienced an apocalypse tourist boom since 2000. That is when Doomsday believers began flocking to their mountain the Pic de Bugarach believing it to be a) protected from destruction by the magnetic force which surrounds it and b) the gateway to another dimension and/or a base for alien gatherings. More than 20,000 have climbed the mountain this year (twice as many as in 2011) and the mayor is so worried about a massive influx that he is thinking of calling in the army.
But what is the basis for the 2012 Phenomenon? For that we must go back two millennia to the Mayans, the ancient but highly developed civilisation of Central America. The Mayans were mathematicians and astronomers and kept time differently from us. In a system known as the Long Count they used units of 20, culminating in a period of time known as a b'ak'tun and corresponding to 394 years. They also believed the world moves through ages each lasting 13 b'ak'tuns or 5,125 years. According to their calendar the current world age - the fourth - is due to end on December 21, 2012. In any case, the Mayan calendar stops then.
(...)
..