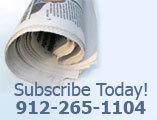 That is the hope of Kristee Glace, program assistant for the 4-H Cloverleaf Spirit Award program.
"This gives them another opportunity to work on writing while also learning about the environment around them," Glace said.
She introduced the project by bringing environmental artifacts like turtle skulls and other items found in nature to show the children and pique their interest about the natural world of the Golden Isles.
"We want to see all of that spill over," Glace said.
Fifth-grade classes from Satilla Marsh Elementary, Burroughs-Molette Elementary, Golden Isles Elementary and Altama Elementary are participating in the competition.