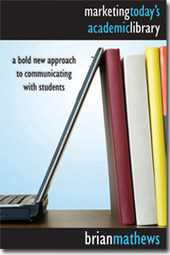 This is exactly what research libraries are talking about: data, visualization, modeling, social media, etc. While the open access aspect of the article enables people to read the work, it's the YouTube video that creates buzz building word of mouth and fueling discovery.
Now the sad thing is that a tenure committees probably would not factor this in, but imagine being able to put something in your review packet that says: I did this experiment, wrote a paper, and over one million people learned about my research. Talk about alt metrics…
I see a role for libraries here: research promotion. How might this evolve? It's no longer about just publishing a paper but creating a suitable outlet and campaign to share the findings. Our job becomes producers: designing and developing the channels, methods, processes and metrics to repackage content (academic papers) into formats apt for expanding the audience.