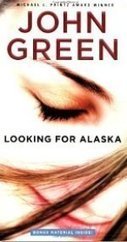 "A Tennessee school district has banned John Green's award-winning novel Looking for Alaska (Dutton, 2005) from the school curriculum.
"Our director of schools reviewed it and decided it probably shouldn't be required reading," says Jeremy Johnson, spokesperson for Sumner County Schools, where the book was pulled. "We're not using it in the curriculum, but it will still be used in the libraries.
The decision came after students in an English class at White House High School chose the YA novel for a class assignment this spring. Johnson says the district had some "inquiries from parents," and the principal went through the book himself, deciding to pull it because he "thought it had a sex scene that was a bit much for the curriculum," explains Johnson. The district followed, banning it in all classes..."