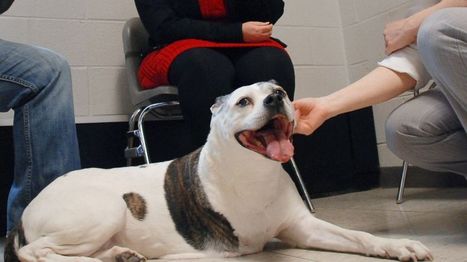 "Sasha Ruano was expected to die within months after losing her leg and undergoing chemotherapy for osteosarcoma, the same bone cancer that robbed Ted Kennedy Jr. of his leg in 1973 when he was 12.
But she has now doubled the medical odds and survived 606 days because of a clinical trial of an immunotherapy drug.
Sasha, by the way, is an adorable 13-year-old American bull dog, but the treatment she is getting at the Penn Vet Center in Philadelphia promises to help more than just animals. If it proves successful, people might benefit as well, and human trials might begin in a few years, researchers say.
READ: Dogs Might Give Clues for Humans With Breast Cancer
"Osteosarcoma is a very aggressive bone tumor and it occurs in both dogs and people," said Dr. Nicola Mason, assistant professor of medicine at University of Pennsylvania School of Veterinary Medicine. "There is a marked similarity in tumors between dogs and humans that makes this research even more exciting.
"If you go to gene expression at the molecular level, tumors in dogs and humans are almost identical," she said. "If you take a bone tumor from a dog and a child, you could not tell which is which."
Sasha's owners, Liliana and Carlos Ruano, have had her since she was 6 weeks old and drive 400 miles each way from Raleigh, N.C., so that she gets her free vaccine every three weeks."