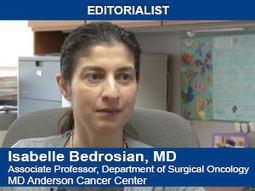 "Use of breast MRI increased dramatically in the last decade, much of it involving women who did not meet high-risk criteria for use of advanced imaging, analyses of two large databases showed.
One study showed a 20-fold increase in the rate of breast MRI from 2000 to 2009, followed by a decline and stabilization. In 2011 the rate remained 16 times higher than in 2000.
The second found that use of breast MRI almost tripled from 2005 through 2009.
The studies, reported online in JAMA Internal Medicine, showed that breast MRI was used appropriately in 20% to 30% of cases, and one of the studies found that half of women with high-risk characteristics did not undergo breast MRI.
"Our data suggest that the majority of women who underwent screening for breast MRI did not meet the recommended criteria for appropriate use, whereas many who did meet the criteria did not undergo screening breast MRI," Natasha K. Stout, PhD, of Harvard, and co-authors concluded. "However, to clearly understand appropriateness of use, better documentation of breast cancer risk is needed."