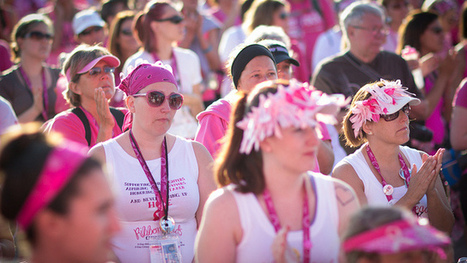 Last year, the fast-food chain KFC joined a national campaign to raise money and awareness by selling pink-branded buckets of fried chicken. This year, the White House was turned pink for breast cancer awareness month. The symbolic pink ribbon for breast cancer awareness can be seen everywhere, slapped onto products like lipstick or the butt of a Smith & Wesson gun. The marketing of the pink ribbon is hugely successful — but has it actually decreased breast cancer rates?
According to American Cancer Society, one in eight women will be diagnosed with the disease in her lifetime, and 232,340 new cases of invasive breast cancer will be diagnosed in women this year. Despite the ever-pervasive pink message and donations supporting breast cancer research, medical experts are pushing for a change, raising the issue of whether carcinogens in some household products should have a public warning — like cigarettes.
Earlier this year, Sen. Kirsten Gillibrand (D-N.Y.) led a charge to address the hidden carcinogens in products. Armed with research for the National Institute of Environmental Health Sciences (NIEHS), she tried to "beef up" the 2008 Breast Cancer and Environmental Research Act with new reforms to the Safe Chemicals Act.