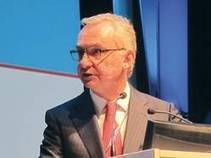 "AMSTERDAM – PIK3CA mutations were associated with lower pathologic complete responses in women with human epidermal growth factor receptor 2 breast cancer treated with neoadjuvant anti-HER2 therapy in the phase III NeoALTTO trial.
"The lower pCR rate in PIK3CA-mutant tumors is observed in all treatment arms, irrespective of estrogen receptor status," Dr. José Baselga said at the European multidisciplinary European cancer congresses.
For the analysis, the investigators performed mutational analyses on tumor samples from 355 (78%) of the 455 study participants. Of these, 23% had a PIK3CA mutation, which is highly consistent with other published analyses, said Dr. Baselga, physician-in-chief at Memorial Sloan-Kettering Cancer Center, in New York City.Earlier results from NeoALTTO (Neoadjuvant Lapatinib and/or Trastuzumab Treatment Optimization) showed that dual HER2 blockade with trastuzumab (Herceptin) and lapatinib (Tykerb) nearly doubled the pCR rate compared with single-agent trastuzumab or lapatinib (51.3% vs. 29.5% vs. 24.7%; P = .0001).
No BRAF mutations were found, and one patient had a KRAS mutation.
Overall, pCRs occurred in 21% of PIK3CA mutant tumors and 34% of PIK3CA wildtype tumors (P = .03), he said.