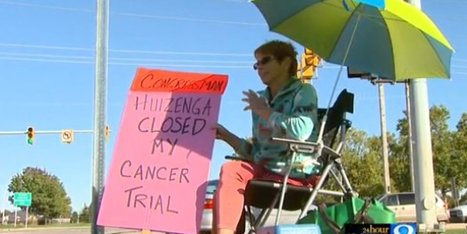 "A Michigan woman struggling with ovarian cancer took an attention-grabbing approach to voicing her displeasure with the government shutdown. On Tuesday afternoon, she camped out at a congressman's office with a sign that read, "Congressman Huizenga closed my cancer trial."
WOOD TV 8 reports Cheryl Klein sat with her sign in view of traffic in Grandville, Mich., on Tuesday afternoon.
"I'm here because I'm having a hard time understanding what's happening in this country," Klein told the news station.
Klein did not literally have her cancer trial closed. She was not scheduled for treatment, but told West Michigan news station WZZM 13 that she had planned to sign up for a clinical trial. The application is process is currently closed.
The partial government shutdown began last week after Congress failed to pass funding legislation as House Republicans demanded changes to Obamacare, which Senate Democrats refused. While the National Institutes of Health's Clinical Center will be continuing to provide treatment to existing patients, according to the Washington Post, they aren't accepting new patients or "initiating new clinical protocols." An estimated 200 patients that would normally be admitted to clinical trials weekly will be turned away as a result of the shutdown.
The Clinical Center is "a national resource that makes it possible to rapidly translate scientific observations and laboratory discoveries into new approaches for diagnosing, treating, and preventing disease," according to their website."