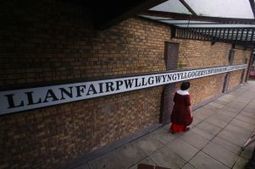 Look closely and you'll see it — the problematic letter "t."
"When consonants attack. Wales takes its notoriously vowel-shy place names very, very seriously, even if the rest of us can't. So seriously, in fact, that one Welsh village is preparing to vote in hope of settling a years-old debate: is it Llansantffraid or Llansanffraid?

The town's name was altered from the former to the latter in 2008 by local councillors who fancied themselves authorities on its long-forgotten etymology. Local people disagreed, and some unpleasantness – defacing of roadsigns, etc. – followed. Authorities hope a referendum will quell the controversy once and for all. Listen to the two versions pronounced here and we're sure you'll agree: one little "t" makes all the difference. "