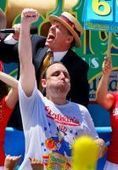 "The true meaning of July 4th is, of course, competitive eating, and this Independence Day the US celebrated two true American champs:
Joey "Jaws" Chestnut and Sonya "The Black Widow" Thomas, both of whom defended their titles in Coney Island's annual hotdog-scoffing contest. Both kept their titles in Nathan's Famous annual 4th of July hot dog eating contests.

Chestnut downed 69 weiners in 10 minutes, while Thomas managed 36.75 in the same time. (We wouldn't like to see the 0.25 that got away.) Now that's what we call freedom...."
read more..+ Short video
Via
Aulde de B