Scoop.it!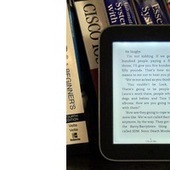 Comparing books to ebooks is like comparing mechanical watches to digital watches, or manual cars to automatic cars.
Robert Bolick's insight:
E-incunabula are what we have now in ebooks, but railing against the simulation of flipping pages is missing the point. The point that needs innovative thought about the most efficacious delivery of content for reading lies beneath two disparate but related experiences that occur after long stretches of reading ebooks and print books, interpersed with writing to the screen -- the long stretch that has you nodding off after a while.
The first is the experience of trying to turn the page on the ebook screen. I mean actually reaching with your thumb and forefinger to the upper right-hand corner of the screen to turn the page. If your display is sharp enough, the digital type well-designed enough, the layout proportionate to the content, and the content absorbing enough, you will at some point have tried to do this
The second is the experience of tapping or drawing your finger over words on the print page to highlight or cut and paste them or to bookmark the page.
What is going on in the reading brain when either of these experiences occurs? The first suggests that digital reading and writing are becoming, or revealing that they may be, more haptic than previously thought. The second suggests that the gestures, the fingertip memory, that arise with reading and writing in a digital environment are evoked when we turn to a print and paper environment.
To have the print and e-edition of a book as an effective bundled and integrated work will require more study and more willingness in the supply chain to experiment.