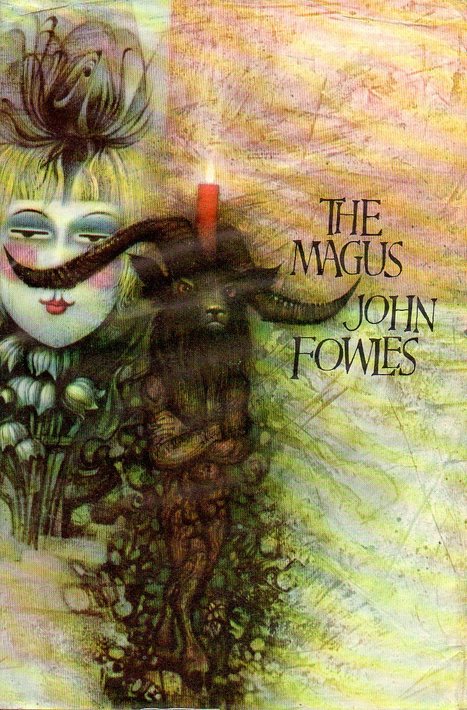 "'The human race is unimportant. It is the self that must not be betrayed.'
'I suppose one could say that Hitler didn't betray his self.'
'You are right. He did not. But millions of Germans did betray their selves. That was the tragedy. Not that one man had the courage to be evil. But that millions had not the courage to be good.'"

The Magus is frustrating to review. Describing the plot gives away too much - but the plot and its conclusion isn't as important as the journey.
The story is about a young man going to a Greek isle as a teacher in the 50s. There he encounters an enigmatic figure, the Magus from the tile who changes his life completely. He appears to play a game with him, but face and fiction are soon not to be distinguished any more. It appears in its most straightforward form as a modern version of the myth of a hero's quest for maturity - divided into three sections (chaper1-9 "call to adventure", 10-67 trial and testing, leading to knowledge in the ritual, 68-77 heros return, achievment of maturity).

The author narrates the story from Urfes point of view, therefore drawing the reader very much into the game itself. As the protagonist, also the reader gets to question reality and accept the supernatural. However it is not about the supernatural, but rather about "the description of an immediate perception in figurative terms which expand to express an emotioal additude towards a more complex thing" - which is exactly what happens when Nicholas hears the word "prodotis". The reader feel, as it were, lost in a centre-less maze which leads them nowhere. Although the effect may be frustrating, one should keep in mind that the mise en abyme éclatée neatly echose the thematic message of the novel.

This link shows a letter written by John Fowles towards interpretations of this novel: "He suggests, that the one valid reality or principle for us lies in eleutheria - freedom. Accept that man has the possibility of a limited freedom and that if this is so, he must be responsible for his actions (...) humanely to all humans"