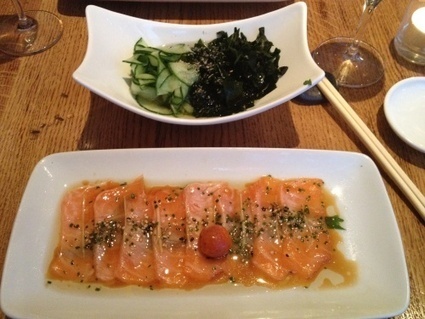 "Since the global chain of high-end Japanese restaurants Nobu closed down a couple of years ago in Paris, the dining climate in "The city of lights" ("La Ville-Lumière") has shifted immensely. The locals and visitors alike are open to a more cosmopolitan food and seek a lighter alternative to the usually heavy lunch and dinner at a French restaurant. The Asian cuisine is currently thriving in Paris with Japanese catching up with the recent popularity of Thai food. Orient Extreme is one of the leaders of the contemporary Japanese restaurants in Paris. With its chef once leading the local Nobu the Orient Extreme has got also the Nobu's feel.
Chef: Toyofumi Ozuru as a young chef trained in Tokyo and then moved to Paris, where he headed a number of Japanese restaurants including the globally famous Nobu. His style is fresh and contemporary, in the fashion of the Nobu restaurants (excluding Nobu Matsuhisa in LA).
Food: New style sashimi of sea bream is one of the most popular dishes of the contemporary Japanese cuisine. It is a raw fish carpacio served with green chilli and cilantro. At the Orient Extreme they prepare it very well. Using the freshest fish is crucial and getting the balance of seasonings right guarantees the utmost pleasure from this dish.
Many Japanese chefs including Nobu Matsuhisa spent some time in Peru and were inspired by the local cuisine. Later, they spread this South American cuisine with its nourishing ingredients across the world. The Peruvian Ceviche with lobster on the Orient Extreme's menu is one of such Peruvian musings. Zesty and crisp dish with lots of onion and lime, it is ideal to mix with seafood such as lobster. It is a tricky pairing with wine, but I would go for an oaky Chardonnay with a less dominant acidity to balance the mouth-squeezing sauce. It is one of my favourite Peruvian dishes I enjoy anywhere if the fish or seafood is fresh.
Address: 21 rue Bayard, 75008, Paris"