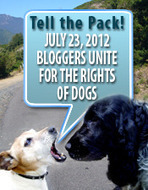 Blogger Unite Dog Rescue"

We are asking for all bloggers to unite with us against animal abuse.
Even if you don't blog you can still Tweet, or LIKE on Face book, Pin on Pinterest and + on Google + or more.
Hey, even call your local news station and newspaper.
How about donating ca$h to a rescue organization of your choice? Our favorite is AARF in Colorado Springs. http://www.aarfhelp.org/happy-tails.html ;
You could volunteer or make a decision to foster an older animal in need instead of buying form a puppy mill that should be shut down with the animals rescued.
Here's the link for more information to help animals in need of change.
Bloggers Unite for Dog Rescue July 23, 2012 http://goo.gl/e4v2I via@CindylusMu