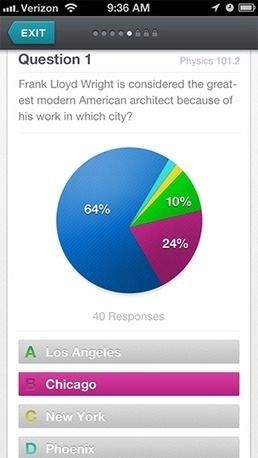 Polls by Blackboard lets users create and join nearby polls with the tap of a finger. To participate, open the app or go to Polls.bb and select an open Poll near you, or search for an existing Poll. Want to create your own Poll? Simply click "My Polls", add and name your Poll, and let the voting begin.
Forget those clunky clickers and expensive RFID readers. Polls lets you use the devices you're already carrying on a daily basis. If you have a mobile phone (smart or otherwise) we've got you covered.
Polls is available as a native app for iOS devices, and mobile web for the rest, so everyone will be able to participate. No smartphone? No problem. Polls also lets you participate via SMS within the U.S.
Polls is a free tool for you to use as much as you like – in the classroom or otherwise. Simply download the app or go to Polls.bb and incorporate real-time polling into your classroom or extracurricular activity.