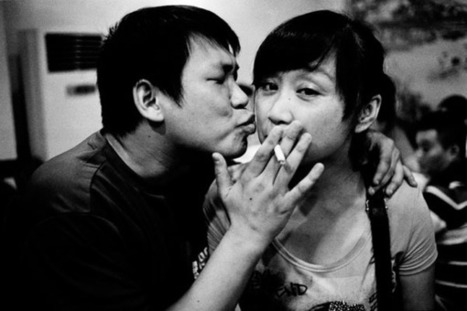 "I said I was going to do the first book of China without a picture of Mao in there, but he slipped in in the background," Mr. Dundon said. "I'll leave that up to the reader to find."
Mr. Dundon writes in his introduction to the project on Emphas.is (http://www.emphas.is/web/guest/discoverprojects?projectID=616) about how he sought to make pictures "that didn't necessarily read as China." Instead, he presents a personal narrative, an exploration of a city and the region around it.
"There's a very prescribed version of China that I think Western photographers, or visual people, kind of adhere to," he said over the phone from Sacramento, where he lives. He wanted to avoid the photographic clichés that often come out of China — masses of people, skyscrapers, the color red, Tiananmen Square, poverty juxtaposed with sleek modernity. It was the only way he felt he could create something honest, "and not this kind of post-colonial, white guy goes to China" project.
He wanted to know people, and to explore those relationships with his photography — as he'd always done in his work.