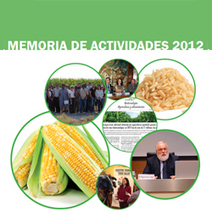 Publicado por Alfredo L. Zamora en Destacado, Noticias el 20 Feb, 2013
Cuando se cumplen 17 años desde que se empezaran a sembrar semillas biotecnológicas en el mundo, estos cultivos han vuelto a registrar en 2012 un nuevo récord de adopción mundial.
Según se desprende del 'Informe Anual sobre la situación mundial de la comercialización de cultivos modificados genéticamente en 2012' elaborado por el International Service for the Acquisition of Agri-Biotech (ISAAA), la superficie mundial de cultivos modificados genéticamente (MG) alcanzó las 170,3 millones de hectáreas en 2012, lo que supone un incremento del 6% respecto al año anterior con 10,3 millones de hectáreas más sembradas.
OMGs EN LA UNIÓN EUROPEA
La Unión Europea (UE), pese a continuar en el vagón de cola, ha vuelto a registrar récord de siembra un año más con 129.071 hectáreas sembradas con semillas MG en 2012, 14.464 hectáreas más que en 2011 (España, Portugal, República Checa, Eslovaquia y Rumanía).
Alemania y Suecia dejaron de cultivar en 2012 la patata modificada genéticamente Amflora tras su salida del mercado europeo. Por su parte, Polonia dejó de cultivar maíz Bt movida por decisiones políticas sin base científica.
Los políticos europeos se enfrentan al reto de garantizar que los productores europeos no dependan de la importación de productos biotecnológicos y puedan apostar por ellos libremente y competir en igualdad. A día de hoy la Unión Europea acumula retrasos de hasta 44 años en aprobación de cultivos transgénicos. Todos ellos han sido declarados seguros por los órganos científicos competentes .
OMGs EN ESPAÑA

Según los datos del Ministerio de Agricultura, Alimentación y Medio Ambiente, España sigue estando un año más como la vanguardia europea con 116.306 hectáreas de cultivo de maíz modificado genéticamente, el 30% del total sembrado en el país. Estos datos suponen un incremento de casi el 20% respecto a 2011.