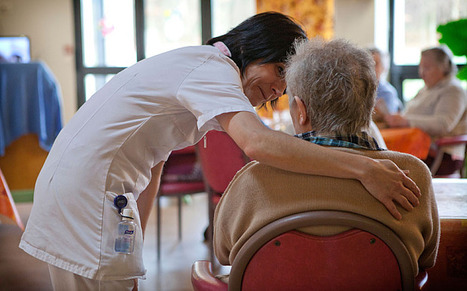 People with Alzheimer's disease can experience severe memory impairments.However, according to a new study, the emotions associated with events can persist long after the events themselves have been forgotten.
In their paper, the researchers, University of Iowa neurologists Edmarie Guzman-Velez and colleagues, showed volunteers a series of emotional video clips, chosen to be either very sad or very happy.
The eight sad clips, for example, included an excerpt from the movie Sophie's Choice (1982) in which 'a woman is forced to choose which of her children to keep at a Nazi concentration camp'. The happy videos, by contrast, featured such classics as 'a collage of funny scenes with babies' from America's Funniest Home Videos.
Half of the participants had been diagnosed with Alzheimer's disease, while half were healthy controls, matched for age and gender. Memory tests showed that the Alzheimer's patients could recall few details of the sad film clips, even just minutes after watching them. Four of the patients couldn't recall any facts about the movies, and one didn't remember watching any video clips at all.
Despite this: The patients with Alzheimer's reported feeling elevated levels of sadness that lasted for up to 30 minutes after the films, despite having little or no recollection of the content… Across all participants, the correlation between memory performance and sadness during the final rating was significant, but in a negative direction (r = 0.37, n = 34). This paradoxical effect actually suggests that the less the patients remembered about the films, the longer their sadness lasted.
Despite their severe memory impairment, all 4 patients who could not recollect any details about the films reported sustained feelings of sadness after the memory test, and 3 reported feeling sad even 30 minutes later.
Read more here:
http://blogs.discovermagazine.com/neuroskeptic/2014/09/27/memory-fades-emotion-remains/
The associated research article can be read here: http://www.ncbi.nlm.nih.gov/pubmed/25237742
Via
Jocelyn Stoller