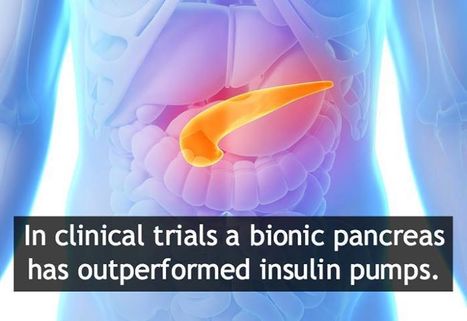 Clinical trials show that a smartphone-linked artificial pancreas could help free patients with type 1 diabetes from needing to regulate their blood glucose levels. The findings, published in the New England Journal of Medicine, revealed the bionic pancreas was much better at keeping user's levels stable.
While these traditional methods can help type 1 diabetics to live normally with their disease, they require constant attention and can often result in dangerous glucose highs and lows. Previous research has shown that by keeping blood glucose levels in this normal range, patients can avoid complications such as heart, kidney and eye disease.
The results showed that type 1 diabetics who used the bionic pancreas were more likely to have blood glucose levels consistently within the normal range than those who used fingerstick tests and then manually injected insulin.
The new bionic pancreas, created by a team from Boston University, has a tiny removable sensor located in a thin needle, which is inserted under the skin of a patient and beams their glucose levels in real time to a smartphone app.
The app calculates the levels of insulin or glucagon needed to balance blood sugar, and tells an implanted pump to administer the required dose automatically. Before eating, patients can simply input data about their meal to have the app factor it in. Other than that, the patients don't need to think about their levels.
Read more here:
http://sciencealert.com.au/news/20141606-25685.html
http://www.newscientist.com/article/dn25732-bionic-pancreas-frees-people-from-shackles-of-diabetes.html
http://www.nejm.org/doi/full/10.1056/NEJMoa1314474