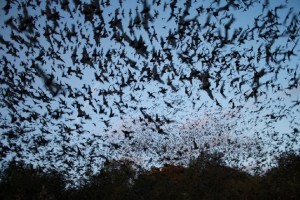 Bats are among the world's most successful mammals. Found on six continents, they do at night what birds do in daytime.
Bat echolocation works much like radar. As it happens, Mexican free-tailed bats live in colonies so large that when they emerge at night, they show up on human radars.
North American bats are sadly threatened by the most virulent disease outbreak ever seen in animals. White Nose Syndrome was first detected in a New York cave in 2006; since then it's killed more than 6 million bats, threatening some species with extinction and leaving much of the eastern United States nearly bat-free.
Via
Dr. Stefan Gruenwald