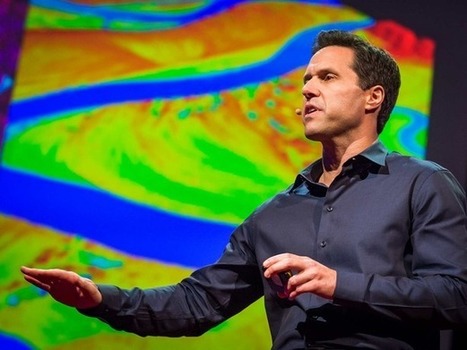 TED TALK VIDEO
Carnegie Institution for Science - Greg Asner
ECOLOGY FROM THE AIR
What are our forests really made of? From the air, ecologist Greg Asner uses a spectrometer and high-powered lasers to map nature in meticulous kaleidoscopic 3D detail -- what he calls "a very high-tech accounting system" of carbon. In this fascinating talk, Asner gives a clear message: To save our ecosystems, we need more data, gathered in new ways... http://www.ted.com/talks/greg_asner_ecology_from_the_air?utm_content=awesm-publisher&utm_medium=on.ted.com-static&awesm=on.ted.com_Asner&utm_campaign=&utm_source=t.co
Carnegie Institution For Science, December 17, 2013
▶ FOREST MONITORING: BRINGING THE POWER TO THE PEOPLE http://carnegiescience.edu/news/forest_monitoring_bringing_power_people
Carnegie Institution for Science, March 03, 2014
▶ AMAZON'S CANOPY CHEMISTRY IS A PATCHWORK QUILT. http://carnegiescience.edu/news/amazon%E2%80%99s_canopy_chemistry_patchwork_quilt
Independent, April 14, 2014
▶ "LUNGS OF THE WORLD" UNDER THREAT: Fires could turn Amazon rainforest into a desert as human activity and climate change http://www.independent.co.uk/news/world/americas/fires-could-turn-amazon-rainforest-into-a-desert-as-human-activity-and-climate-change-threaten-lungs-of-the-world-says-study-9259741.html
Huffington Post Green, April 15, 2014
▶ CHINA EXPECTED TO PRIORITIZE ENVIRONMENT OVER INDUSTRY/DEVELOPMENT IN REVISED LAW http://www.huffingtonpost.com/2014/04/15/china-expected-to-elevate-environment_n_5150010.html
▶ DEFORESTATION, MINING RISES AGAIN IN BRAZIL'S AMAZON IMPACTING ECOSYSTEMS, CLIMATE, DEVASTATING INDIGENOUS COMMUNITIES http://sco.lt/6831nN
VIDEO
"Capitalism: A Ghost Story"
CAPITALIST POWER GRAB OF RESOURCES IN EMERGING NATIONS.
An Evening with Arundhati Roy and Siddhartha Deb
http://www.youtube.com/watch?v=3tkQyqLnFbk
▶ ECUADOR TO SELL A THIRD OF IT AMAZON RAINFOREST TO CHINESE OIL COMPANIES http://sco.lt/5nMisj
=======================
HOW SMART ARE PLANTS?
THE INCREDIBLE PLANT "BRAIN" COMMUNICATION
===========================
January 30, 2012 PhysOrg
▶ PLANT BIODIVERSITY PRESERVATION IS CRUCIAL TO BUFFER NEGATIVE EFFECTS OF CLIMATE CHANGE AND DESERTIFICATION IN DRY LANDS http://phys.org/news/2012-01-biodiversity-ecosystems-global-drylands.html
- ▶ WHAT CAME FIRST: THE PLANTS OR HUMAN SCIENCE?
Research suggests plants capable of employing quantum physics http://www.seeddaily.com/reports/Research_suggests_plants_capable_of_employing_quantum_physics_999.html
29 April, 2013 Planet Ark
- ▶ PLANTS SLOW CLIMATE CHANGE BY FORMING CLOUD SUNSHADE: STUDY http://planetark.org/wen/68527
February 1, 2012 Scientific American
- ▶ THANKS TO PLANTS, WE WILL NEVER FIND A PLANET LIKE EARTH http://www.scientificamerican.com/article.cfm?id=plants-created-earth-landscapel&WT.mc_id=SA_CAT_EVO_20120206
WATCH
MOTHER TREE: HOW DO TREES COMMUNICATE?
http://www.scoop.it/t/biodiversity-is-life/p/2827188209/mother-tree-video-how-do-trees-communicate
- ▶ HOW CLOSELY TIED IS THE HEALTH OF TREES TO THE HEALTH OF HUMANS? http://sco.lt/5ax9hh
- ▶ FOOD FORESTS CAN MITIGATE RISKS OF "FEAST OR FAMINE" - BIG CORPORATE AG IS NOT THE ANSWER http://sco.lt/8q2M41
- ▶ NATURAL MIXED FORESTS MORE PRODUCTIVE THAN MEGA INDUSTRIAL MONOCULTURES http://sco.lt/8p51lZ
▶ FORESTS AND THE HEALTH OF THE PLANET http://www.scoop.it/t/biodiversity-is-life/p/1610875320/forests-and-the-health-of-the-planet
- ▶ ELDERS OF THE FORESTS DISAPPEARING WORLDWIDE - IRREPLACEABLE HABITAT FOR MANY ANIMALS http://sco.lt/5xvxI1
- ▶ THE HIDDEN WORLD OF SOIL UNDER OUR FEET: SOIL AS A LIFELINE http://sco.lt/4nJvdp
WATCH
▶ FILM: ***"HOME"
An Exquisite Dedication To the Stewards of Our Planet
http://thenaturaleye.wordpress.com/2011/03/26/home-an-exquisite-story-of-our-world/
-▶ >> AN URGENT MEMO TO THE WORLD - The Natural Eye Project - http://thenaturaleye.wordpress.com/2012/07/12/an-urgent-memo-to-the-world/