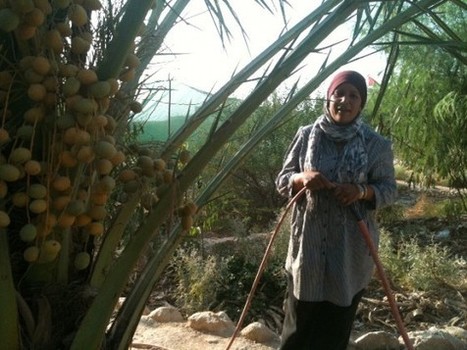 Green Prophet, January 16, 2012
▶ PERMACULTURE IS THE SILVER-GREEN BULLET FOR THE MIDDLE EAST "Permaculture made total common sense to me," insists Nadia Lawton, "it also fitted with my life ethics a a Muslim." While the first part of Nadia's statement may not be considered unique, her remark about Islam is. Permaculture is defined as the design and maintenance of agriculturally productive systems that have the diversity, stability and resilience of natural ecosystems. It basically looks at growing in a holistic framework which promotes sustainability, the conservation of resources and biodiversity.... http://www.greenprophet.com/2012/01/interview-nadia-lawton-talks-about-permaculture-in-the-middle-east/
WATCH
Permaculture TV Free Video Co-operative
EDIBLE FOREST GARDENING - MANY RIVERS PERMACULTURE
http://permaculture.tv/edible-forest-gardening-many-rivers-permaculture/
United Nations Environmental Programme, March 05, 2014
-▶ UNEP AND UNITED ARAB EMIRATES (UAE) AGREE TO COOPERATE ON ENVIRONMENTAL ISSUES. United Nations Under-Secretary-General Achim Steiner and United Arab Emirates (UAE) Minister of Environment and Water, Dr Rashid Ahmed Mohammed Bin Fahad, signed a wide-ranging agreement to cooperate on urgent environmental issues. -
http://www.unep.org/NewsCentre/default.aspx?DocumentID=2764&ArticleID=10734&l=en
The Permaculture Research Institute, October 21, 2013
-▶ THINKING LIKE A FOREST - George Monbiot http://permaculturenews.org/2013/10/21/thinking-like-forest/
WATCH
"SEEDS OF PERMACULTURE"
Keeping Our Soils Healthy
Documentary (1:28:04)
People are becoming less and less self-sufficient around the world, these local communities that were previously growing everything themselves and knew how to build their own houses out of natural materials are completely dependent on big foreign powers and import from other countries. All around the world, whether you're in South America, in North America, in Europe, in Asia, people are experiencing weather patterns that are out of the norm. The planet needs permaculture.
http://topdocumentaryfilms.com/seeds-permaculture/
Green Prophet, December 12, 2013
▶ WADI RUM BEDOUINS DEFY NATURE BY GROWING ORGANIC VEGGIES IN THE DESERT http://www.greenprophet.com/2013/12/wadi-rum-bedouins-defy-nature-by-growing-organic-veggies/
▶ FOOD FORESTS CAN MITIGATE RISKS OF 'FEAST OR FAMINE". BIG CORPORATE AG IS NOT THE ANSWER http://sco.lt/8q2M41
▶ KEEPING NATURE IN OUR FUTURE: HEALTHY ECOSYSTEMS ESSENTIAL FOR ECONOMIC AND PLANETARY SURVIVAL http://sco.lt/99SfhJ
▶ ORGANIC FOOD - WHAT IS AN 'ORGANIC' LABEL REALLY WORTH? http://sco.lt/7HDYLR
▶ OUR INDUSTRIAL, WESTERN AGRICULTURAL FOOD SYSTEM IS DESTROYING THE EARTH AND OUR HEALTH http://sco.lt/686Qi1
PLOS ONE, February 25, 2014
▶ WHY BIODIVERSITY AND IT'S LOSS MATTERS: INFECTIOUS DISEASES AND THEIR OUTBREAKS IN ASIA-PACIFIC : REPORT http://www.plosone.org/article/info%3Adoi%2F10.1371%2Fjournal.pone.0090032
Inhabitat, February 28, 2014
-▶ THE BIOMIMICRY MANUAL: WHAT CAN LEAF-CUTTER ANTS TEACH US ABOUT FARMING? http://inhabitat.com/the-biomimicry-manual-what-can-leaf-cutter-ants-teach-us-about-farming/#more-606388
Global Possibilities, February 24, 2014
▶ VERTICAL AEROPONIC (HYDROPONIC) FARMS: 90% LESS WATER, 90% LESS LAND: AMISH FARM LEADS THE WAY TO LOCAL FOOD SECURITY IN INDIANA http://www.globalpossibilities.org/amish-farm-leads-the-way-to-local-food-security-in-indiana/
Gizmag, February 18, 2014
-▶ SRI LANKAN APARTMENT BLOCK TO BE WORLD'S TALLEST VERTICAL GARDEN http://www.gizmag.com/clearpoint-residencies-worlds-tallest-vertical-garden/30864/
The Toronto Star, February 27, 2014
- ▶ NO MORE OLD MacDONALD: THERE'S A NEW FARMER IN TOWN.Working With Mother Nature, Not Against Her. They're drawn to the land, well-educated and ready to reinvent themselves as hard-working entrepreneurs who care deeply about food.http://www.thestar.com/life/2014/02/27/no_more_old_macdonald_theres_a_new_farmer_in_town.html
The Wildlife Trusts, February 27, 2014
- ▶ U.K. - FARMING WITH WILDLIFE AT THE HEART OF NEW FUNDING SCHEME: Farming with wildlife, not against it, is essential to our future food security. Farmers and land managers who deliver benefits for wildlife will receive funding in a new environmental land management scheme. http://www.wildlifetrusts.org/news/2014/02/27/farming-wildlife-heart-new-funding-scheme
▶ WALL STREET BANKS EYE AMERICAN FARMLAND, THREATEN FUTURE OF U.S. AND WORLD AGRICULTURE http://sco.lt/4nG6Ur
EcoWatch, February 22, 2014
-▶ STOP FEEDING THE BEAST AND START FEEDING THE PEOPLE. We have a system of predatory agriculture in which corporations pursue private gain relentlessly regardless of the social consequences. Social consequences can be defined as anything from polluting our water, land and air to impacting the health of our families to making the business of farming economically unsustainable. http://ecowatch.com/2014/02/22/stop-feeding-beast-start-feeding-people/
One Green Planet, February 26, 2017
▶ HOW THE GLOBAL INDUSTRIAL FOOD COMPLEX LEAVES PEOPLE HUNGRY AND UNDERNOURISHED http://www.onegreenplanet.org/animalsandnature/whos-eating-the-worlds-grain/
February 18, 2013 Common Dreams
▶ INDUSTRIAL AG TRIGGERS DEVASTATING 'WEB' OF POLLUTION http://www.commondreams.org/headline/2013/02/18-2
-▶ CONTEMPORARY AGRICULTURE IS BURNING UP OUR PLANET http://sco.lt/6xupV3
July 25, 2013 REALfarnacy
▶ URBAN HOMESTEADERS PRODUCE 6,000 POUNDS OF FOOD ON 1/10 ACRE http://www.realfarmacy.com/urban-homesteaders-produce-6000-pounds-of-food-on-110-acre/
September 9, 2013 Mother Jones
▶ ONE WEIRD TRICK TO FIX FARMS FOREVER: PEAK SOIL http://www.motherjones.com/environment/2013/09/cover-crops-no-till-david-brandt-farms
▶ THE HIDDEN WORLD OF SOIL UNDER OUR FEET - - SOIL AS A LIFELINE - CLIMATE CHANGE http://sco.lt/4nJvdp
▶ WE'RE ON THE BRINK OF THE WORST DROUGHT IN 1,000 YEARS http://sco.lt/74mbHF
▶ KEEPING NATURE IN OUR FUTURE: HEALTHY ECOSYSTEMS ESSENTIAL FOR PLANETARY SURVIVAL http://sco.lt/99SfhJ
-▶ ENOUGHNESS: WESTERN THOUGHT vs INDIGENOUS PHILOSOPHY http://sco.lt/4kcNH7
FARM-AGEDDON:
No birds. No bees. Our countryside laid waste. And billions of animals that never see a blade of grass http://sco.lt/7ztQbB
▶ PESTICIDE/CHEMICAL REGULATION OVERHAUL NEEDED TO PROTECT WILDLIFE, ECOSYSTEMS AND FOOD CHAIN http://sco.lt/6VkkXB
▶ RESTORING THE EARTH - THE BONN CHALLENGE http://sco.lt/4p7B3Z
▶ HOW BIODIVERSITY COULD SAVE YOUR LIFE http://sco.lt/90Sr2n
▶ BIODIVERSITY IS VITAL TO MAINTAINING ECOSYSTEMS AND HUMAN HEALTH http://sco.lt/4u4JhR
AN URGENT MEMO TO THE WORLD http://thenaturaleye.wordpress.com/2012/07/12/an-urgent-memo-to-the-world/
WATCH
"HOME"
An Exquisite Dedication To the Stewards of Our Planet
http://thenaturaleye.wordpress.com/2011/03/26/home-an-exquisite-story-of-our-world/