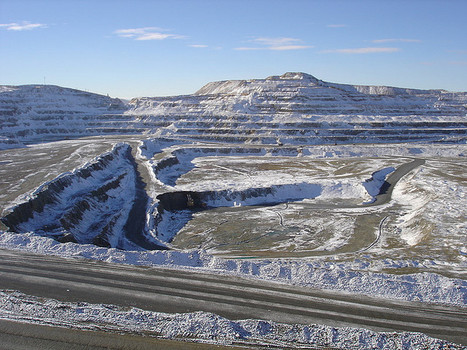 NPR, May 21, 2012
▶ MINERAL-RICH MONGOLIA RAPIDLY BECOMING "MINE-GOLIA"
PHOTOS
Mongolia is in the midst of a dramatic economic boom as huge foreign mining operations swoop in to reshape the country. Some predict Mongolia's GDP will double in a decade. But this economic overhaul could put further pressure on Mongolia's traditional way of life, devastating environment...no regulations, no oversight
http://www.npr.org/2012/05/21/152683549/mineral-rich-mongolia-rapidly-becoming-minegolia
Reuters, January 27, 2015
▶ HERDER KILLS HIMSELF IN INNER MONGOLIA TO PROTEST LAND GRAB. The suicide adds to evidence that tensions are deepening in Inner Mongolia, where minority ethnic Mongolians are demanding better protection of their lands, rights and traditions. http://www.trust.org/item/20150127040736-edzzu/?source=leadCarousel
IC Magazine, December 24, 2014
▶ DUST, DISPLACEMENT, INTIMIDATION: MONGOLIAN HERDERS ARE UNDER PRESSURE BY IRON ORE MINE CORPORATION. Whether it is animals getting sick of road dust, the loss of winter camps or the loss of access to water, the Tayan Nuur iron ore mine, owned by the Mongolian company Altain Khuder (financed by the European Bank for Reconstruction and Development (EBRD), has brought severe challenges to nomadic herder families in the Gobi Altai mountains.

https://intercontinentalcry.org/dust-displacement-intimidation-mongolian-herders-are-under-pressure-by-iron-ore-mine-26510/
Corporate Watch, September 22, 2014
▶ FOREIGN MINING PR DRIVE IN MONGOLIA. Mining companies are on a charm offensive in Mongolia, attempting to convince Mongolians that the foreign corporate takeover of large swathes of the Gobi desert will benefit local communities... http://www.corporatewatch.org/news/2014/sep/22/mining-pr-drive-mongolia
April 12, 2013 New York Times
▶ TIBET: DEADLY TIBETAN LANDSLIDE DRAWS ATTENTION TO CHINESE MINING. The deaths have thrown a spotlight on the Gyama mine, one of the largest and most contentious in Tibet. Hailed by the central government in Beijing as a flagship project, the copper, gold and molybdenum mining operation is hated by many Tibetans, who are furious at the environmental degradation it and other mines have caused on the Tibetan plateau.
http://www.nytimes.com/2013/04/03/world/asia/deadly-tibetan-landslide-draws-attention-to-mining.html?partner=rssnyt&emc=rss&_r=0
Bloomberg, May 28, 2014
▶ MONGOLIA SELLS OUT TO MEGA MINING GIANTS: SEES PALTRY $1 BILLION "INVESTMENT" FOR DOUBLING MINING AREA TO ONE FIFTH OF THE COUNTRY. New mining law amendments would increase Mongolia's area available to mining and exploration to 20 percent from around 8 percent, by lifting a 2010 ban on new licenses. The period of exploration would also increase from nine years to 12 years. No protections for environment, indigenous peoples or water http://www.bloomberg.com/news/2014-05-29/mongolia-sees-1-billion-investment-from-doubling-area-for-mines.html
VIDEO
NPR, September 07, 2009
▶ MONGOLIANS SEEK FORTUNE IN GOLD, BUT AT WHAT COST? ▶ http://www.npr.org/2009/09/07/112516360/mongolians-seek-fortune-in-gold-but-at-a-cost
DW.DE April 01, 2014
▶ MONGOLIA'S MINING BOOM RAISES SERIOUS ENVIRONMENT CONCERNS. With an abundance of minerals and one of the world's fastest growing economies, Mongolia is a hotspot for mining companies. But, lawmakers are struggling to ensure the environment doesn't pay a heavy price. http://www.dw.de/mongolias-mining-boom-raises-environment-concerns/a-17534285
National Geographic, October 17, 2008
▶ MONGOLIA GOLD RUSH DESTROYING RIVERS, NOMADIC LIVES http://news.nationalgeographic.com/news/2008/10/081017-mongolia-mining-missions.html
▶ Ulaanbaatar, Mongolia, Nov 30 2012 (IPS)
MAKE YOUR MONEY AND RUN :- FOREIGN MINING SAPS A THIRSTY GOBI DESERT - The Oyu Tolgoi largest copper-gold mine in the world operating in the southern Gobi desert in Mongolia has become a symbol of a looming crisis: a limited water supply that could be exhausted within a decade, seriously threatening the lives and livelihoods of the local population. Inter Press Service http://www.ipsnews.net/2012/11/mining-saps-a-thirsty-desert/
TRANS-PACIFIC PARTNERSHIP:
Obama's New Secretive Global Trade Pacts Are A Global Corporate Coup d'etat http://sco.lt/8kt4ZF
Guardian Sustainable Business, February 28, 2014
▶ MONGOLIA'S WATER SCARCITY COULD THREATEN ITS ECONOMIC BOOM. The resource-rich country is riding high economically for international investors, but a battle is brewing for water between people, mining and agriculture. http://www.theguardian.com/sustainable-business/mongolia-water-scarcity-threaten-economic-boom-mining?CMP=new_1194
MONGOLIA BOOMS - FOUR PART SERIES
http://www.npr.org/series/152995168/mongolia-booms
NPR, May 22, 2012
MONGOLIA'S DILEMMA: WHO GETS THE WATER? http://www.npr.org/2012/05/22/152698675/mongolias-dilemma-who-gets-the-water
HuffPost Arts and Culture, February 18, 2015
▶ PHOTOS OF MONGOLIA'S DESERTIFICATION REVEAL SHOCKING EFFECTS OF CHANGING CLIMATE. To this day, at least 25% of Mongolia's population lives a nomadic life, and in doing so, they remain fiercely dependent on open land for survival. However, due to the fluctuation in climate in recent years, changes to the landscape have rendered this lifestyle difficult, if not impossible, to maintain. Over the course of the past 30 years, approximately a quarter of the country has turned to desert, with around 850 lakes and 2,000 rivers having dried out. If this pattern persists, the Mongolian tradition that's existed for thousands of years will become extinct. http://www.huffingtonpost.com/2015/02/10/daesung-lee_n_6648868.html
NPR, May 24, 2012
OLD WAYS DISAPPEARING IN THE NEW MONGOLIA http://www.npr.org/2012/05/24/152842270/old-ways-disappearing-in-the-new-mongolia
NPR, May 23, 2012
MONGOLIANS SCRAMBLE FOR A SHARE OF MINING WEALTH http://www.npr.org/2012/05/23/152781641/mongolians-scramble-for-a-share-of-mining-wealth
Guardian Sustainable Business, January 05, 2015
▶ SUSTAINABLE MINING: AN INHERENT CONTRADICTION IN TERMS
http://www.theguardian.com/sustainable-business/2015/jan/05/sustainable-mining-business-poverty-environment-new-framework
July 9, 2013 Alternet
▶ MINING THE WORLD TO DEATH http://www.alternet.org/books/mining-world-death-end-extractiveindustrial-model
PHOTOS
June 6, 2013 Global Possibilities
▶ BY MAN OR NATURE, PLACES THAT WILL NEVER BE THE SAME
http://www.globalpossibilities.org/by-man-or-nature-places-that-will-never-be-the-same/
▶ MEGA MINING, FOREIGN LAND GRABS DESTROYING LOCAL COMMUNITIES, ENVIRONMENT AND ECOSYSTEMS http://sco.lt/8nJQf3
VIDEO
▶ ***** FOREIGN CORPORATIONS DESTROYING ECOSYSTEMS, INDIGENOUS LIVELIHOODS, NULLIFYING LAND RIGHTS -- CREATING POVERTY, DEPENDENCE ON A GLOBAL SCALE http://sco.lt/5vdZgH
ENOUGHNESS
WESTERN THOUGHT vs INDIGENOUS PHILOSOPHY

UNPRECEDENTED STUDY
LANGUAGE, CULTURE DISAPPEAR WITH WESTERN DEVELOPMENT AND GLOBALIZATION http://sco.lt/64XtcP
-▶ THE NEW CORPORATE COLONIALISM. DESTRUCTION OF PLANETARY LIFE, INDIGENOUS LAND AND LIVELIHOODS IN THE NAME OF "GROWTH" http://sco.lt/5nT3OT
▶ DEFORESTATION, MINING RISES AGAIN IN BRAZIL'S AMAZON IMPACTING ECOSYSTEMS, CLIMATE, DEVASTATING INDIGENOUS COMMUNITIES http://sco.lt/6831nN
▶ LAND GRABS: HOW FOREIGN "INVESTMENTS" ARE REDISTRIBUTING WEALTH, LAND AND WATER ACROSS THE GLOBE http://sco.lt/5YJpKb
DAMS, ECOCIDE AND WATER RIGHTS
BIG MONEY DRIVES EXTINCTION
Ecosystems, Rivers, Forests, Environment and Indigenous Communities
▶ BOLIVIA FIRST COUNTRY IN THE WORLD TO GIVE LEGAL RIGHT TO THE EARTH. Bolivia pilots new social and economic model based on protection of and respect for nature. Bolivia is to become the first country in the world to give nature comprehensive legal rights in an effort to halt climate change and the exploitation of the natural world, and to improve quality of life for the Bolivian people. http://sco.lt/83jybZ
▶ SHOULD COMPANIES COMPENSATE SOCIETY FOR ENVIRONMENTAL DESTRUCTION FROM WHICH THEY PROFIT? http://sco.lt/5I5UeX
ERADICATING ECOCIDE AND GENOCIDE
WHY BUSINESS LEADERS MUST STEP UP TO THE CHALLENGE
http://sco.lt/56vkOH