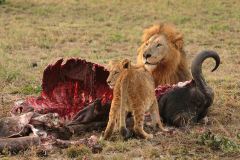 -▶ACROSS THE WORLD, WE'RE LOSING OUR LARGE CARNIVORES
The decline of large predators and other "apex consumers" at the top of the food chain has disrupted ecosystems across the planet
STUDY FINDS found that more than three-quarters of all large predators—including wolves, bears, and lions—are in decline due to habitat loss and human persecution. Many of the animals now roam territory that's half the size of what it once was, and most carnivores have already become extinct in the developed world.... http://www.nsf.gov/news/news_summ.jsp?cntn_id=121020
CNN, February 13, 2014
-▶ KILLING DEER TO MAKE OUR LIVES EASIER? THE GROWING IMBALANCE OF OUR ECOSYSTEMS http://www.cnn.com/2014/02/13/opinion/safina-culling-wildlife-deer/index.html
New York Times, September 28, 2012
-▶ THE WORLD NEEDS WOLVES http://www.nytimes.com/2012/09/29/opinion/the-world-needs-wolves.html?_r=2&src=me&ref=general&;
Science Daily, January 09, 2014
-▶ LOSS OF LARGE CARNIVORES POSES GLOBAL CONSERVATION PROBLEM, CHANGING OUR ECOSYSTEMS FOREVER http://www.sciencedaily.com/releases/2014/01/140109143754.htm
VIDEO:
OUR TOP PREDATORS ARE CRUCIAL
HOW WOLVES INCREASED BIODIVERSITY IN YELLOWSTONE http://www.scoop.it/t/biodiversity-is-life/p/1127450598/our-top-predators-are-crucial-how-wolves-increased-biodiversity-in-yellowstone-video
-▶ ENDING THE WAR ON USA WILDLIFE http://sco.lt/8FVdXF
▶ HEALTHY ECOSYSTEMS VITAL FOR BOTH HUMAN AND ENVIRONMENTAL HEALTH http://sco.lt/7rCeWH
VIDEO
KQED Quest
TOP CATS: HOW PUMAS AND OTHER APEX PREDATORS' POPULATIONS AFFECT THE BIG BIODIVERSITY PICTURE http://science.kqed.org/quest/2013/05/01/top-cats-how-pumas-and-other-apex-predators-populations-affect-the-big-biodiversity-picture/
EarthJustice, April 29, 2014
▶ FOOD CHAIN ECOCIDE: WILDLIFE CONSERVATION GROUPS JOIN FIGHT TO BAN d-CON RAT POISONS. "EPA is trying to protect wildlife and children from the damaging and even lethal effects of rat poison" http://earthjustice.org/news/press/2013/wildlife-conservation-groups-join-fight-to-ban-d-con-rat-poisons
NPR Radio, February 14, 2014
▶ ILLEGAL, REMOTE POT FARMS IN CALIFORNIA POISONING RARE WILDLIFE http://www.npr.org/2014/02/14/275351164/illegal-remote-pot-farms-in-california-poisoning-rare-wildlife
ReWild | KCET January 10, 2014
-▶ LOSING BIG CARNIVORES MAY BE AS BIG A THREAT AS CLIMATE CHANGE http://www.kcet.org/news/redefine/rewild/mammals/losing-big-carnivores-may-be-as-big-a-threat-as-climate-change.html
-▶ AFRICAN SAVANNAH LOSES TWO-THIRDS OF ITS LIONS IN 50 YEARS http://sco.lt/8ZYM0v
Focusing on Wildlife, November 9, 2013
-▶ CRITICALLY ENDANGERED SPECIES IN SUMATRA ON THE ROAD TO EXTINCTION http://focusingonwildlife.com/news/critically-endangered-species-in-sumatra-on-the-road-to-extinction/
WE WERE WARNED:
August 15, 2010 Guardian Environment
UN Environment Programme:
-▶ 200 SPECIES EXTINCT EVERY DAY, UNLIKE ANYTHING SINCE DINOSAURS DISAPPEARED 65 MILLION YEARS AGO
According to the UN Environment Programme, the Earth is in the midst of a mass extinction of life. Scientists estimate that 150-200 species of plant, insect, bird and mammal become extinct every 24 hours. This is nearly 1,000 times the "natural" or "background" rate and, say many biologists, is greater than anything the world has experienced since the vanishing of the dinosaurs nearly 65m years ago... http://www.theguardian.com/environment/2010/aug/16/nature-economic-security
Science Daily, July 14, 2013
▶ LOSS OF TOP ANIMAL PREDATORS HAS MASSIVE ECOLOGICAL EFFECTS http://www.sciencedaily.com/releases/2011/07/110714142133.htm
Science Daily, February 22, 2012
-▶ PREDATOR-PREY RELATIONSHIPS MAKE POSSIBLE THE RICH BIODIVERSITY OF COMPLEX ECOSYSTEMS http://www.sciencedaily.com/releases/2012/02/120222154633.htm#.T0cG2iWpjTY.twitter
April 22, 2013 MSN News
-▶ KEYSTONE SPECIES' LOSS COULD CAUSE ECOSYSTEM COLLAPSE http://news.msn.com/science-technology/keystone-species-loss-could-cause-ecosystem-to-collapse
-▶ WEB-OF-LIFE UNRAVELING - Healthy Ecosystems Vital for All Planetary Life http://sco.lt/7Obz0L
National Science Foundation, January 15, 2014
-▶ LOSS OF LARGE PREDATORS CAUSING WIDESPREAD DISRUPTION OF ECOSYSTEMS. The study looked at research results from a wide range of terrestrial, freshwater and marine ecosystems and concluded "the loss of apex consumers is arguably humankind's most pervasive influence on the natural world." http://www.nsf.gov/news/news_summ.jsp?cntn_id=121020
MinnPost, January 14, 2014
-▶ LOSS OF BIGGEST PREDATORS IS SEEN AS A THREAT THAT MIGHT RIVAL CLIMATE CHANGE. The faltering fortunes of the world's 31 largest carnivores are having ripple effects far beyond simple predator-prey relationships, setting off cascades of ecological change that could prove as significant a threat as climate change to earthly life as we now know it... http://www.minnpost.com/earth-journal/2014/01/loss-biggest-predators-seen-threat-might-rival-climate-change
WATCH
"FORTRESS OF THE BEARS"
Enter a world shaped by bears, trees, and salmon, and explores the delicate balance of their interconnected lives... http://www.pbs.org/wnet/nature/episodes/fortress-of-the-bears/introduction/7475/
Conservation Bytes
-▶ ESSENTIAL ROLE OF CARNIVORES ON THE WANE. these essential ecosystem engineers are extremely prone to persecution and decline/extinction. Of the 31 largest (≥ 15 kg) carnivores (excluding pinnipeds – i.e., seals, sea lions & walruses), 61 % are threatened, 77 % are declining, and the average occupancy of their original ranges is just 47 % (ranging from < 1 to 73 %).
The ages-old notion that predators should be feared and eliminated is waning, but perhaps not quickly enough before the predators themselves disappear. The evidence that they provide positive outcomes for human society is mounting and vindicates these species as vilains. Anyone doubting the essential role of carnivores needs to read this paper. http://conservationbytes.com/2014/01/10/essential-role-of-carnivores-on-the-wane/
Oregon State University, January 09, 2014
-▶ LOSS OF LARGE CARNIVORES POSES GLOBAL CONSERVATION PROBLEM http://oregonstate.edu/ua/ncs/archives/2014/jan/loss-large-carnivores-poses-global-conservation-problem
New York Times, February 01, 2014
-▶ SAVING MORE THAN JUST SNOW LEOPARDS: Communities coming together in the cold, rugged mountains of Pakistan, Afghanistan, Tajikistan and China http://www.nytimes.com/2014/02/02/opinion/saving-more-than-just-snow-leopards.html
The Ecologist, December 30, 2013
▶ THE MOST URGENT PROBLEM WE FACE - ENVIRONMENTAL COLLAPSE http://www.theecologist.org/blogs_and_comments/commentators/2215830
Save Our Seas:
-▶ OCEAN PREDATOR LOSS: MORE THAN 90% OF ALL TOP MARINE PREDATORS HAVE DISAPPEARED http://saveourseas.com/threats/predatorloss
-▶ 100 MILLION SLAUGHTERED A YEAR JUST FOR THEIR FINS. SHARK POPULATIONS PLUMMET BY 90% - COULD BE EXTINCT IN A FEW YEARS http://sco.lt/6lqeED
WATCH
OVERFISHING - THE CONSEQUENCES
NBC News, July 09, 2014
-▶ CRY WOLF? LARGE CARNIVORE DECLINE PUTS HUMANS AT RISK, STUDY SAYS . Coexistence is increasingly necessary if the world hopes to reverse a downward spiral of its largest carnivores such as wolves as well as lions, tigers, and bears, according to a review study published Thursday in the journal Science.
As the carnivores decline, ecosystems and food chains that humans depend on for survival are unraveling and, in many cases, adding to the economic woes of everyone from farmers to ecotourism companies...http://www.nbcnews.com/science/cry-wolf-large-carnivore-decline-puts-humans-risk-study-says-2D11880999
KILL ALL WOLVES
-▶ MASS WOLF KILLINGS ARE BASED ON THE MOST CYNICAL OF PREMISES http://sco.lt/5TCsBl
Reuters, January 17, 2014
KILL ALL WOLVES: JUDGE REFUSES TO HALT WOLF TRAPPING IN IDAHO WILDERNESS. A district judge denied a request from conservationists to block Idaho's efforts to TRAP AND KILL TWO WOLF PACKS TARGETED FOR ERADICATION IN FEDERALLY PROTECTED WILDERNESS AREA -- FOR PREYING ON ELK PRIZED BY HUNTERS http://www.reuters.com/article/2014/01/18/us-usa-wolves-idaho-idUSBREA0H03K20140118
Idaho Statesman, January 14, 2014
-▶ WOLF-KILLING PLAN COMPLICATES BALANCING ACT http://www.idahostatesman.com/2014/01/14/2971988/wolf-killing-plan-complicates.html
-▶ KEEPING NATURE IN OUR FUTURE: HEALTHY ECOSYSTEMS ESSENTIAL FOR ECONOMIC AND PLANETARY SURVIVAL http://sco.lt/99SfhJ
September 8, 2013 Scientific American
▶ VULTURES FACE EXTINCTION AND INDIFFERENCE "If they were gone, we'd be left with a huge disease-transmission time bomb,"
http://www.scientificamerican.com/article.cfm?id=vultures-face-extinction-and-indifference
EarthJustice, April 29, 2014
▶ FOOD CHAIN ECOCIDE: WILDLIFE CONSERVATION GROUPS JOIN FIGHT TO BAN d-CON RAT POISONS. "EPA is trying to protect wildlife and children from the damaging and even lethal effects of rat poison" http://earthjustice.org/news/press/2013/wildlife-conservation-groups-join-fight-to-ban-d-con-rat-poisons
LiveScience, October 01, 2009
-▶ LOSS OF TOP PREDATORS CAUSING ECOSYSTEMS TO COLLAPSE. The catastrophic decline around the world of "apex" predators such as wolves, cougars, lions or sharks has led to a huge increase in smaller "mesopredators" that are causing major economic and ecological disruptions, a new study concludes. http://www.livescience.com/9716-loss-top-predators-causing-ecosystems-collapse.html
TakePart, January 14, 2014
-▶ ON THE BRINK OF A WORLD WITHOUT LARGE PREDATORS http://www.takepart.com/article/2014/01/13/brink-world-without-large-predators
Guardian Environment, January 09, 2014
-▶ RAPID LOSS OF TOP PREDATORS A MAJOR ENVIRONMENTAL THREAT http://www.theguardian.com/environment/2014/jan/10/rapid-loss-of-top-predators-a-major-environmental-threat
Mirror OnLine, January 26, 2014
-▶ SICK FOX HUNTERS VICIOUSLY SLAUGHTER ANIMAL AS CHILDREN AS YOUNG AS FIVE WATCH ON http://www.mirror.co.uk/news/uk-news/sick-fox-hunters-slaughter-animal-3062356#.Uudl5PbTlcw
▶ LARGE-SCALE BIODIVERSITY IS VITAL TO MAINTAIN ECOSYSTEM HEALTH http://sco.lt/666xPN
▶ BALANCE OF NATURE: EXPOSING THE BIG GAME http://exposingthebiggame.wordpress.com/tag/balance-of-nature/
International Business Times, January 10, 2014
-▶ AS NUMBERS OF LARGE CARNIVORES DECLINE, SCIENTISTS URGE EFFECTIVE CONSERVATION METHODS
Populations of large carnivores such as lions, wolves and bears are declining in ecosystems around the planet, changing the face of landscapes from the tropics to the Arctic while also putting humans at risk, according to a new study published Friday in the journal Science.
http://www.ibtimes.com/numbers-large-carnivores-declines-scientists-urge-effective-conservation-methods-1534374
-- WATCH--
CALL OF LIFE:
FACING THE MASS EXTINCTION (2010)
Call of Life: Facing the Mass Extinction is the first feature documentary to investigate the growing threat to Earth's life support systems from this unprecedented loss of biodiversity. Through interviews with leading scientists, psychologists, anthropologists, philosophers, and indigenous and religious leaders, the film explores the causes, the scope, and the potential effects of the mass extinction, but also looks beyond the immediate causes of the crisis to consider how our cultural and economic systems, along with deep-seated psychological and behavioral patterns, have allowed this situation to develop, continue to reinforce it, and even determine our response to it.
Call of Life tells the story of a crisis not only in nature, but also in human nature, a crisis more threatening than anything human beings have ever faced before. http://www.filmsforaction.org/watch/call_of_life_facing_the_mass_extinction_2010/
- ▶ THE GREAT AMERICAN CORPORATE GIVEAWAY: OUR PUBLIC WILDLIFE PRESERVES: DESTROYING OUR FORESTS FOR "GREEN" ENERGY AND BIG http://sco.lt/7gfXAv
-▶ OUR OCEANS ARE DYING: MASS EXTINCTION MAY BE INEVITABLE http://sco.lt/7dy5iL
-▶ CHADS LAST ELEPHANTS - NUMBERS PLUNGE FROM 4,300 TO 450 http://sco.lt/8nnEJd
-▶ RHINOS IN CRISIS: POACHING AND ILLEGAL TRADE REACH HIGHEST LEVELS http://sco.lt/6zVwtl
-▶ STATE OF THE WORLD'S BIRDS REPORT INDICATE A PLANET IN PERIL http://sco.lt/4jydYv
AN URGENT MEMO TO THE WORLD
The Natural Eye Project
http://thenaturaleye.wordpress.com/2012/07/12/an-urgent-memo-to-the-world/
The Ecologist
-▶ THICH NHAT HANH: MAYBE IN 100 YEARS THERE WILL BE NO MORE HUMANS ON THE PLANET http://sco.lt/7fkZ3B
-▶ CLIMATE CHANGE TO HALVE HABITAT FOR OVER 10,000 COMMON SPECIES http://sco.lt/8G99Av
▶ ERADICATING ECOCIDE AND GENOCIDE: WHY BUSINESS LEADERS MUST STEP UP TO THE CHALLENGE http://sco.lt/56vkOH
-▶ ENOUGHNESS: WESTERN THOUGHT vs INDIGENOUS PHILOSOPHY http://sco.lt/4kcNH7
- ▶ GMO TREES, BIOLOGICAL DESERTS: MONSANTO GMO TREES COULD DEVASTATE FOREST ECOSYSTEMS
Eradicating Real Forests to plant Monoculture BioEngineered Trees http://sco.lt/52lFDN
May 23, 2013 Common Dreams
-▶ TERRACIDE:
THE BIGGEST CRIMINAL ENTERPRISE IN HISTORY - DESTROYING OUR PLANET FOR RECORD PROFITS
VIDEO
▶ TROPHY, CANNED HUNTING: Lions, Tigers Killed For Trophy Hunting http://sco.lt/6qdbW5
▶ MASSIVE MONARCH BUTTERFLY DECLINE - TRACKING THE CAUSES - HABITAT LOSS, PESTICIDES http://sco.lt/6gjf9t
▶ WHY CHOOSING NATURE WILL ONLY ADVANCE HUMAN SOCIETIES http://sco.lt/8BIJP7
▶ A CULTURE SEPARATED BY NATURE CANNOT SURVIVE: BANKRUPTING NATURE http://sco.lt/8MkDxJ
▶ ERADICATING ECOCIDE: WHY BUSINESS LEADERS MUST STEP UP TO THE CHALLENGE http://sco.lt/7uGWKv
-------------------------------------------------------
SEE
Ongoing News Aggregates of the State Of Our Planet
▶ OUR OCEANS NEED US -- GOING, GOING...http://www.scoop.it/t/our-oceans-need-us
▶ CLIMATE CHANGE WILL IMPACT US ALL - OUR CHANGING PLANET http://www.scoop.it/t/changingplanet
▶ Biodiversity IS Life http://www.scoop.it/t/biodiversity-is-life
▶ YOUR FOOD, YOUR HEALTH - The Health of Humans is reflected in the Health of Our Ecosystems And Our Food Production Sources http://www.scoop.it/t/agriculture-gmos-pesticides
▶ CORPORATE "SOCIAL" RESPONSIBILITY- Corporations Have a Responsibility to Be Mindful of their Impact on Both Environmental and Human Health http://www.scoop.it/t/environmental-and-human-health