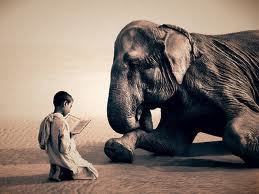 WATCH
"ASHES AND SNOW" on Vimeo
A poetic field study that depicts the world not as it is, but as it might be—a world in which the natural and artificial boundaries separating humans from other species do not exist. The viewing experience is one of wonder and contemplation, serenity, and hope.
http://vimeo.com/64458967
WATCH NOVA |
INSIDE ANIMAL MINDS
UNRAVELLING DOLPHIN, ELEPHANT SOCIETIES
NOVA explores these breakthroughs through three iconic creatures: dogs, birds, and dolphins
How animals understand the world around them, uncovering their remarkable problem-solving abilities, and exploring the complexity of their powers of communication and even their emotions. In the three-hour special "Inside Animal Minds" http://www.pbs.org/wgbh/nova/nature/inside-animal-minds.html
Earth In Transition, March 26, 2014
- ▶ SURPRISE: ELEPHANTS ARE REALLY INTELLIGENT (REALLY!) http://www.earthintransition.org/2014/03/surprise-elephants-are-really-intelligent-really/
LiveScience, September 06, 2013
▶ AFTER 2,500 STUDIES, TIME TO DECLARE ANIMAL SENTIENT BEINGS http://www.livescience.com/39481-time-to-declare-animal-sentience.html
-▶ THE CAMBRIDGE CAMBRIDGE DECLARATION ON CONSCIOUSNESS http://fcmconference.org/img/CambridgeDeclarationOnConsciousness.pdf
Mongabay, March 28, 2014
- ▶ THOSE EYES LOOK HUMAN: COULD ANTHROPOMORPHISM BE USED FOR CONSERVATION? According to the researchers, anthropomorphism is an important way in which people make sense of their interactions with the non-human world. When there is a sense of connection, there is often a stronger commitment to conservation. However, scientists have long been wary of anthropomorphism because it was seen as leading to unscientific hypotheses about animal behavior, according to co-author Meredith Root-Bernstein from the University of Oxford. http://news.mongabay.com/2014/0328-devitt-anthropomorphism-rootbernstein.html
Live Science, December 20, 2013
- ▶ IGNORING NATURE NO MORE: THE STATE OF THE ANIMALS 2013
There are a number of questions that frequently arise in discussions of the cognitive, emotional and moral lives of animals. For example: Are "they" (other animals) like us? Do other animals have language? Are dogs smarter than cats or vice versa? Are we smarter than other animals? Are there "higher" and "lower" animals, and do "smart" animals suffer more than less-intelligent animals? How does relative brain size (brain size expressed as a function of body mass, called the encephalization quotient) figure into the discussions of the cognitive capacities of animals and their ability to suffer — do animals with relatively larger brains suffer more than animals with relatively smaller brains? Does it really matter if, for example, a dog or a chimpanzee behaves in the same way that young humans do? http://www.livescience.com/42157-state-of-animals-in-2013.html
HuffPost Blog, September 05, 2013
▶ SCIENTISTS SIGN DECLARATION : ANIMALS HAVE "CONSCIOUS AWARENESS" JUST LIKE HUMANS http://www.huffingtonpost.com/kathy-stevens/animal-consciousness_b_1857667.html
TED VIDEO:
HUMAN-ANIMAL RELATIONSHIPS:
WHERE WE ARE AND WHERE WE'RE GOING http://www.huffingtonpost.com/marc-bekoff/humananimal-relationships_b_4439038.html
August 26, 2013 Earth In Transition:
-▶ WHY 'EXPERTS' GET SO CONFUSED ABOUT LEGAL RIGHTS FOR NON-HUMANS http://www.earthintransition.org/2013/08/why-experts-get-so-confused-about-legal-rights-for-nonhumans-2/
Mother Nature Network, February 14, 2014
- ▶ 11 ANIMALS THAT MATE FOR LIFE: OLD FAITHFUL http://www.mnn.com/earth-matters/animals/photos/11-animals-that-mate-for-life/old-faithful
Huffington Post, March 23, 2014
▶ GIRAFFE SHARES TOUCHING GOODBYE WITH DYING ZOO WORKER (PHOTO) http://www.huffingtonpost.com/2014/03/20/giraffe-touching-goodbye-photo_n_5001631.html
The Dodo, March 11, 2014
▶ CRUSTACEANS DO FEEL PAIN AFTER ALL, SCIENTISTS SAY https://www.thedodo.com/crustaceans-do-feel-pain-after-461059714.html
Collective-Evolution, September 17, 2013
▶ INDIA DECLARES DOLPHINS & WHALES AS 'NON-HUMAN PERSONS', DOLPHIN SHOWS BANNED http://www.collective-evolution.com/2013/09/17/india-declares-dolphins-whales-as-non-human-persons/
VIDEO
TwisterSifter, March 11, 2014
AN INJURED DOLPHIN APPROACHED THIS DIVER FOR HELP: THEN THIS HAPPENED http://twistedsifter.com/videos/injured-dolphin-approaches-diver-for-help/


A HEART WATCH
BBC. Natural World.
A WHALE CALLED "LUNA"
A Friendship Beyond Our Understanding
The emotional story of a young killer whale's quest for companionship after he was separated from his family and found himself on the rugged, wild coast of Vancouver Island. The film records the human friendships he developed and the trouble this led him into. From death threats to numerous capture attempts by the government, the film-makers watched as various people tried to determine Luna's fate...http://www.youtube.com/watch?v=BFFs9PPFiNM
▶ DO WHALES HAVE CULTURE? http://sco.lt/4uMK7l
VIDEO
OutsideOnline, April 09, 2014
THIS HORSE DOES YOGA
Equine yoga, in which humans and horses practice the ancient tradition simultaneouslyat the Doma India School, a 50-year-old school of horsemanship in Argentina, uses yoga to heal abused or otherwise nervous equines. http://www.outsideonline.com/news-from-the-field/Yoga-Goes-to-the-Horses.html
VIDEO
BBC Nature, April 15, 2014
MALE MONKEY CARES FOR DYING PARTNER
http://www.bbc.co.uk/nature/26924936
"Z00S" (PODCAST)
Lovely Listen
RadioLab, March 14, 2014
UNCAGING THE CAGED
http://www.radiolab.org/story/91552-zoos/
Modern Farmer, March 10, 2014
▶ HOW SMART ARE SWINE? - STUDY
Pigs can play video games, distinguish peppermint from spearmint, maybe even lie to each other and are fast learners http://modernfarmer.com/2014/03/pigheaded-smart-swine/
National Geographic, March 10, 2014
▶ ELEPHANTS KNOW HOW DANGEROUS WE ARE FROM HOW WE SPEAK http://news.nationalgeographic.com/news/2014/03/140310-elephants-amboseli-national-park-kenya-maasai-kamba-lions-science/
Earth in Transition, March 13, 2014
▶ ELEPHANT DESTROYS HOUSE, THEN RESCUES BABY http://www.earthintransition.org/2014/03/elephant-destroys-house-rescues-baby/
Environmental News Network
EMPATHETIC ELEPHANTS
http://www.enn.com/top_stories/article/47077
VIDEO
EarthTouch News Network
HERD RESCUES TINY BABY ELEPHANT FROM MUDDY PIT
If you've ever doubted the strength of elephant social bonds, then watch this amazing video of a female elephant rescuing a calf from a slippery waterhole in the Addo Elephant National Park in South Africa.
http://www.earthtouchnews.com/articles/2014/february/20/herd-rescues-tiny-baby-elephant-from-a-muddy-pit.aspx
MORE EVIDENCE FOR EMPATHY IN ELEPHANTS
VIDEO
Science/AAAS, February 1, 2014
ELEPHANTS CONSOLE EACH OTHER
http://news.sciencemag.org/plants-animals/2014/02/elephants-console-each-other
AND
One Green Planet
▶ STUDY REVEALS MORE ABOUT THE EMOTIONAL LIVES OF ASIAN ELEPHANTS http://www.onegreenplanet.org/news/study-reveals-more-about-the-emotional-lives-of-asian-elephants/
Huffington Post Green, September 30, 2013
▶ ELEPHANT SAYS GOODBYE TO AN OLD FRIEND (PHOTO) http://www.huffingtonpost.com/2013/09/30/elephant-says-goodbye_n_4004429.html?utm_hp_ref=mostpopular
A LOVELY WATCH
▶ "ECHO" ▶
AN UNFORGETTABLE ELEPHANT (BBC)
▶ A WORLD WITHOUT ELEPHANTS - UNBEARABLE - POACHING TO EXTINCTION http://sco.lt/6hXE5x
CNN, March 21, 2014
▶ WANG, AFRICA'S LAST POLAR BEAR, MOURNS DEATH OF HIS LONGTIME COMPANION http://www.cnn.com/2014/03/21/world/africa/south-africa-last-polar-bear/index.html
WATCH
HOW SMART ARE ANIMALS (60:00)
NOVAScienceNOW
Dogs, dolphins, parrots, and even octopuses (mere mollusks!) may be smarter than you think http://www.pbs.org/wgbh/nova/nature/how-smart-are-animals.html
WATCH
WHAT ARE ANIMALS THINKING?(60:00)
NOVAScienceNOW
Probe animal morality, the "swarm intelligence" of a beehive, the amazing navigation talents of pigeons, and more.
Program Description
We humans have long wondered how animals see the world—and us. Does your dog really feel shame when it gives you that famous "guilty look?" What is behind the "swarm intelligence" of slime mold or a honeybee hive? How can pigeons possibly find their way home across hundreds of miles of unfamiliar terrain? In this episode of NOVA
http://www.pbs.org/wgbh/nova/nature/what-animals-thinking.html
The Dodo, March 11, 2014
-▶ RETIRED MAN AND GOOSE SHARE LASTING FRIENDSHIP https://www.thedodo.com/retired-man-and-goose-share-la-461272833.html
WATCH THIS SHORT VIDEO
-▶ IF YOU'VE EVER QUESTIONED THE EMOTIONAL CAPACITY OF ANIMALS http://sco.lt/8Nnhjd
The Dodo
-▶ THE LAST PIG IN THE SLAUGHTERHOUSE https://www.thedodo.com/community/BobComis/the-last-pig-459345722.html
One Green Planet
-▶ 10 DOCUMENTARIES THAT WILL MAKE YOU RETHINK EVERYTHING YOU KNOW ABOUT ANIMALS http://www.onegreenplanet.org/animalsandnature/10-documentaries-that-will-make-you-rethink-everything-you-know-about-animals/
WATCH
'ELSA'S LEGACY: THE BORN FREE STORY" ~ Full Episode
PBS Nature
http://www.pbs.org/wnet/nature/episodes/elsas-legacy-the-born-free-story/full-episode/6200/
WATCH - SHORT VIDEO - THE GOOD AMONG US
Grist, February 14, 2014
A GUY RESCUES A STRANDED DEER WITH A HOVERCRAFT http://grist.org/list/watch-a-guy-rescue-stranded-deer-with-a-hovercraft/
SHORT FILM
THEIR FUTURE IN YOUR HANDS
The film demonstrates that animals have rich emotional lives - in many ways similar to our own. It explores the various ways in which animals are used in society and encourages students to question our current relationship with the animal world.
Rather than simply describing the suffering of animals in laboratories and factory farms, this is a film of hope, which shows how we can all help to create a better world for humans, animals and the environment.
Viralnova, January 30, 2014
- ▶ 20 CAMOUFLAGED ANIMALS WHO ARE MASTERS OF DISGUISE http://www.viralnova.com/camouflaged-animals/
▶ ANIMALS KNOW WHAT HERBS THEY NEED TO REMAIN HEALTHY AND WELL http://sco.lt/6KNXMH
WATCH - PBS NOVA
"PRIVATE LIVES OF DOLPHINS"
We're More Alike Than You Think
http://www.youtube.com/watch?v=T7AlinxwVAg
National Geographic, February 02, 2014
▶ REAL TRAGEDY OF TAIJI DOLPHIN SLAUGHTER IS OUR INHUMANITY TOWARD ANIMALS http://news.nationalgeographic.com/news/2014/02/140202-dolphins-taiji-japan-whales-marine-animal-altruism-science/
LOVELY VIDEO
Care2, December 10, 2013
DOLPHIN TANGLED IN FISHING LINE APPROACHES DIVER FOR HELP http://www.care2.com/causes/dolphin-tangled-in-fishing-line-approaches-divers-for-help-video.html
Mail Online, December 06, 2013
▶ DOLPHIN CULTURE: HOW THEY SAY I LOVE YOU WITH A BOUQUET OF SEAWEED: THEY'RE ALSO PUSHY PARENTS, MAKE BEST FRIENDS FOR LIFE -- AND EXFOLIATE EVERY DAY http://www.dailymail.co.uk/sciencetech/article-2519711/How-dolphins-say-I-love-bouquet-seaweed-Theyre-pushy-parents-make-best-friends-life--exfoliate-day.html
TerraDaily, December 17, 2013
-▶ CHIMPANZEES ARE RATIONAL, NOT CONFORMISTS http://www.terradaily.com/reports/Chimpanzees_are_rational_not_conformists_999.html
-▶ PLUS ONE ORIGINAL RESEARCH ARTICLE http://www.plosone.org/article/info%3Adoi%2F10.1371%2Fjournal.pone.0080945
SLIDESHOW
ANIMALS WHO MOURN THEIR DEAD
http://www.care2.com/causes/4-animals-who-mourn-their-dead.html?page=3
WATCH:
WHY WE LOVE CATS AND DOGS
What Makes These Creatures Such Key Members of Our Family?
PBS Nature - Introduction and Full Episode
Animals have rich and deep emotional lives: Some people are cat people, some are dog people. But regardless of which camp they fall into, most people are simply crazy about their pets. The connections people form with their cats and dogs are often the longest, strongest relationships in their lives. They are our soul mates, our best friends, sometimes even our surrogate children. What makes these creatures such key members of our families? http://www.pbs.org/wnet/nature/episodes/why-we-love-cats-and-dogs/introduction/4538/
-▶ MORE THAN HUMAN: STRIKING PORTRAITS OF ANIMALS http://sco.lt/9Cx3BZ
Nature, August 07, 2013
-▶ EXPERIMENTS REVEAL THAT CRABS AND LOBSTERS FEEL PAIN http://blogs.nature.com/news/2013/08/experiments-reveal-that-crabs-and-lobsters-feel-pain.html
Southern Fried Science:
-▶ 13 AMAZING THINGS SCIENTISTS DISCOVERED ABOUT SHARKS IN 2013 http://www.southernfriedscience.com/?p=16267
WATCH:
THE ORANGUTAN AND THE HOUND
https://www.youtube.com/watch?list=PL65DC22CE03D61E41&v=osU5Lq6IZ_Y
Care 2, December 26, 2013
-▶ LOYAL DOG RISKS DROWNING TO PROTECT FAMILY HOME http://www.care2.com/causes/loyal-dog-risks-drowning-to-protect-family-home.html
HuffPost, Science February 22, 2014
▶ DOG BRAINS PROCESS VOICES AND EMOTIONS JUST LIKE HUMANS, STUDY FINDS Dog Brains Process Voices & Emotions Just Like Humans, Study Finds http://www.huffingtonpost.com/2014/02/21/dogs-brains-process-voices-emotions-like-humans_n_4830393.html
AMAZING WATCH
MOMENT OF IMPACT : MOMENTS OF WONDER
PBS Nature Full Episodes
Episode 1: Hunters & Herds
Episode 2: Jungle
http://www.pbs.org/wnet/nature/episodes/moment-of-impact/introduction/5583/
The natural world is filled with "moments of impact" – the split seconds when animals come into contact with each other and the world around them. Previously many of these moments were too fast or too hidden for us to see. But now new camera technologies reveal what's behind these remarkable moments, and cutting edge animations illustrate the "inside story" of animal bioengineering that allows each moment of impact to take place.... http://www.pbs.org/wnet/nature/episodes/moment-of-impact/introduction/5583/
WATCH
NOVA - Full Episode
INSIDE ANIMAL MINDS
http://www.pbs.org/wgbh/nova/nature/inside-animal-minds.html
GREAT VIDEO (52:01)
"THE ANIMAL COMMUNICATOR"
Reconnecting With Our Natural World: Are We Willing to Listen and Respond http://www.cultureunplugged.com/documentary/watch-online/play/11936/The-Animal-Communicator
A GREAT RESOURCE AND WEBSITE FOR VIDEOS, PICS, STORIES
EarthTouch News Network
http://www.earthtouchnews.com/
-▶ KEEPING NATURE IN OUR FUTURE: HEALTHY ECOSYSTEMS ESSENTIAL FOR ECONOMIC AND PLANETARY SURVIVAL http://sco.lt/99SfhJ
FILM
REMEMBERING "GREEN"
An Award Winning Documentary by Patrick Rouxel on the Indonesian rainforest, deforestation and orangutan extinction
"GREEN" has now won top awards from the two most prestigious wildlife film festivals in the world...and more than 30 others... http://greenplanetfilms.org/product_info.php?products_id=682
Climate and Capitalism, December 21, 2013
▶ ECOSOCIALISM AS A HUMAN PHENOMENON http://climateandcapitalism.com/2013/12/21/ecosocialism-human-phenomenon/
- ▶ WHY CHOOSING NATURE WILL ONLY ADVANCE HUMAN SOCIETIES http://sco.lt/8BIJP7
WATCH
FILM: ***"HOME"
An Exquisite Dedication To the Stewards of Our Planet
http://thenaturaleye.wordpress.com/2011/03/26/home-an-exquisite-story-of-our-world
-▶ ENOUGHNESS: WESTERN THOUGHT vs INDIGENOUS PHILOSOPHY http://sco.lt/4kcNH7
▶ RAREST GORILLAS LOSE HALF THEIR HABITAT IN 20 YEARS http://sco.lt/91dA7F
▶ THE SIXTH MASS EXTINCTION IS UPON US http://sco.lt/4ywB3h
▶ ENDING THE WAR ON USA WILDLIFE http://sco.lt/8FVdXF
▶ AN URGENT MEMO TO THE WORLD - The Natural Eye Project - http://thenaturaleye.wordpress.com/2012/07/12/an-urgent-memo-to-the-world/
AND SO .....
WE NEED TO CEASE TREATING OUR ANIMALS, IN PARTICULAR OUR ANIMALS RAISED FOR FOOD, AS INANIMATE OBJECTS ON A BALANCE SHEET
-▶ FARM-AGEDDON: Billions and billions of animals that never see a blade of grass http://sco.lt/7ztQbB
-▶ ANIMALS RAISED IN CORPORATE CONCENTRATION PENS http://sco.lt/6jKf2H
I THINK THIS AUSTRALIAN INVESTIGATION APTLY MEETS THE QUESTION HEAD OF ANIMAL CONSCIOUSNESS AND FEELINGS
WATCH:
"A BLOODY BUSINESS"
Investigation by Australian TV Four Corners Investigation
Live Animal Exports
WATCH
"TAKING ROOT THE VISION OF WANGARI MAATHAI"
Multi Award Winning Documentary (1:19:57)
http://www.youtube.com/watch?v=FNIQLE869VA
Film Website: http://takingrootfilm.com/
TAKING ROOT is a compelling documentary narrative about the first environmentalist and first African woman to win the Nobel Peace Prize. In 1977, Maathai suggested rural women plant trees to address problems stemming from a degraded environment. Under her leadership, their tree-planting grew into a nationwide movement to safeguard the environment, defend human rights and promote democracy, and brought Maathai the Nobel Peace Prize in 2004.