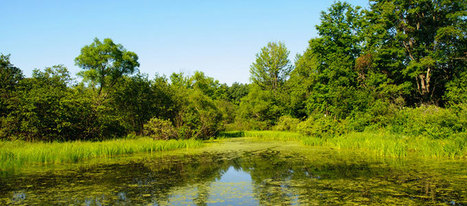 UN Report - 16 October 2012 –
-▶ Governments must recognize the vital economic and environmental role that wetlands play in supporting human life and biodiversity, according to a United Nations-backed report released today, which also stresses that their protection is essential for countries to transition into resource-efficient and sustainable economies.... http://www.un.org/apps/news/story.asp?NewsID=43300&Cr=sustainable+development&Cr1=#.UJWR5IXZ03Y
FastCoExist, July 11, 2014
-▶ THESE ISLANDS ARE SUCKING UP POLLUTION FROM THE WATER
Floating islands that double as water treatment plants keep water clean. Its biomimicry approach shows that natural processes can be as efficient as anything human engineering can devise. http://www.fastcoexist.com/3032357/these-islands-are-sucking-up-pollution-from-the-water-theyre-floating-in
On Earth Magazine, July 09, 2014
-▶ IS IT TIME TO LET THE MIGHTY MISSISSIPPI BE MIGHTY AGAIN? . We've spent billions of dollars on dikes, locks, and levees in a vain attempt to subdue what Mark Twain called 'that lawless stream.' Is it time to let the river have its way? http://www.onearth.org/articles/2014/06/should-we-let-the-mighty-mississippi-be-mighty-again
EcoMENA , February 06, 2014
-▶ THE UNENDING BENEFITS OF WETLANDS: VITAL IN SUPPORTING HUMAN LIFE AND BIODIVERSITY http://www.ecomena.org/benefits-wetlands/
July 30, 2013 Environmental Working Group
-▶ REPORT: 7.2 MILLION ACRES OF USA WETLANDS AND FRAGILE LAND GO UNDER THE PLOW http://www.ewg.org/release/72-million-acres-wetlands-and-fragile-land-go-under-plow
Summit Voice, September 22, 2013
-▶ RATE OF COASTAL WETLANDS LOSSES SPEEDS: THREATENING MIGRATING BIRDS http://summitcountyvoice.com/2013/11/22/rate-of-coastal-wetlands-losses-speeds-up/
October 16, 2012 UNEP News Center
-▶ VITAL ECONOMIC AND ENVIRONMENTAL ROLE OF WETLANDS MUST BE RECOGNIZED TO AVOID FURTHER DEGRADATION AND LOSSES http://www.unep.org/newscentre/Default.aspx?DocumentID=2697&ArticleID=9305&l=en
HuffPost Green, April 04, 2014
-▶ CLEAN WATER ACT EXPANSION DRAWS IRE FROM GOP AS WHITE HOUSE PREPARES TO REGULATE WATERWAYS http://www.huffingtonpost.com/2014/04/04/clean-water-act-expansion_n_5088723.html
Voice of America, May 22, 2014
-▶ STUDY: MISSISSIPPI RIVER OVERWHELMED BY AGRICULTURAL CHEMICALS : A RIVER OF DEAD FISH http://www.voanews.com/content/study-mississippi-river-overwhelmed-by-agricultural-chemicals/1920682.html
CBC New, January 6, 2014
-▶ PESTICIDES 'CONTAMINATING SASKATCHEWAN PRAIRIE WETLANDS http://www.cbc.ca/news/canada/saskatchewan/pesticide-contaminating-prairie-wetlands-scientist-1.2482082
Sustainable Business.com, April 22, 2014
-▶ RESTORING WETLANDS HAS SURPRISING ECONOMIC BENEFITS http://www.sustainablebusiness.com/index.cfm/go/news.display/id/25665
QUEST SCIENCE TV
December 23, 2014
RECONSTRUCTING A RIVER FOR WILDLIFE
http://science.kqed.org/quest/audio/reconstructing-a-river-for-wildlife/
Truthout, Aprl 16, 2014
▶ FOUR YEARS AFTER BP: OIL SPILLS CONTINUE IN LOUISIANA RIVER AND WETLANDS http://www.truth-out.org/news/item/23126-four-years-after-bp-hunting-for-oil-spills-in-louisiana
Summit Voice, April 15, 2014
-▶ COLORADO WETLANDS TO REGAIN FEDERAL PROTECTION http://summitcountyvoice.com/2014/04/15/colorado-wetlands-to-regain-federal-protection/
VIDEO - CRANE COURTSHIP
Wetlands For Life, April 17, 2014
HISTORIC EASTER EGG LAID AT WWT SLIMBRIDGE WETLAND CENTER WWT. A pair of four-foot high Eurasian cranes has nested at WWT Slimbridge Wetland Centre in Gloucestershire, raising hopes they could rear the first successful chick hatched in the wild in the west of Britain since the 1600s http://www.wwt.org.uk/news/news/2014/04/wwt-news/historic-easter-egg-laid-at-wwt-slimbridge-wetland-centre/
Treehugger, April 10, 2014
-▶ POP-UP WETLANDS HELP CALIFORNIA FARMERS AND SAVE MIGRATORY BIRDS. Millions of birds migrate along the Pacific Flyway each year, traveling along an aerial highway that stretches from Mexico up to the Arctic. Although birds cover impressive distances along the way, they still need places to rest. California was once home to an estimated 4 million acres of wetlands in the pre-settlement 1800s. But today, 90 to 95 percent of that habitat has disappeared.
In seasons of drought, like the one we've experienced in the past year, the lack of wetlands can be devastating to bird populations. However a new program in California's Central Valley is temporarily using farmland to create "pop-up" wetlands, which serve as rest stops for traveling birds.
http://www.treehugger.com/slideshows/endangered-species/pop-wetlands-help-california-farmers-and-migratory-birds/
WATCH
QuestScience
WETLANDS TIME MACHINE
More than 100,000 acres of wetlands are being restored in the Bay Area, but how exactly do we know what to restore them to? QUEST discovers how historical ecologists are recreating San Francisco Bay wetlands that existed decades ago. http://science.kqed.org/quest/video/wetlands-time-machine/
Nature Magazine, February 19, 2014
-▶ CHINESE CONTRACTED FOR NICARAGUA "PANAMA" SIZE CANAL WOULD WREAK ENVIRONMENTAL RUIN.
The excavation of hundreds of kilometres from coast to coast, traversing Lake Nicaragua, the largest drinking-water reservoir in the region, will destroy around 400,000 hectares of rainforests and wetlands.
The accompanying development could imperil surrounding ecosystems. Some 240 kilometres north of the most likely route of the canal lies the Bosawas Biosphere Reserve — 2 million hectares of tropical forest that is the last refuge of many disappearing species (see 'Nicaragua carve-up'). Less than 115 kilometres to the south is the Indio Maiz Biological Reserve, with more than 318,000 hectares of tropical dry forest. Worse still, the probable canal route cuts through the northern sector of the Cerro Silva Natural Reserve.... http://www.nature.com/news/conservation-nicaragua-canal-could-wreak-environmental-ruin-1.14721
Phys.Org, February 12, 2012
-▶ DEFORESTATION THREATEN BRAZIL'S WETLAND SANCTUARY http://phys.org/news/2012-02-deforestation-threatens-brazil-wetland-sanctuary.html
Deep Green Resistance News Service
-▶ REPORT FINDS HALF OF EARTH'S WETLANDS DESTROYED SINCE 1900 http://dgrnewsservice.org/2012/10/18/report-finds-half-of-earths-wetlands-destroyed-since-1900/
The Washington Post, December 08, 2013
-▶ STUDY SAYS U.S. CAN'T KEEP UP WITH LOSS OF WETLANDS http://www.washingtonpost.com/national/health-science/study-says-us-cant-keep-up-with-loss-of-wetlands/2013/12/08/c4801be8-5d2e-11e3-95c2-13623eb2b0e1_story.html
-▶ WE'RE ON THE BRINK OF THE WORST DROUGHT IN 1,000 YEARS http://sco.lt/74mbHF
WATCH
BBC Future, March 13, 2013
"PANTANAL: LIQUID HEART OF SOUTH AMERICA"
In this film Rob Shore, head of WETLAND CONSERVATION at the Wildfowl & Wetland Trust, Michael Becker, conservation director at WWF-Brazil, environmental economist Pavan Sukhdev, and lead scientist with The Nature Conservancy Dr M Sanjayan reveal the richness of life supported by the Pantanal but also the contribution this great wetland makes to the life of people living far beyond its limits... http://www.bbc.com/future/story/20130312-liquid-heart-of-south-america
-▶ FAILURE TO PROTECT WETLANDS PUTS MIGRATORY WATERBIRDS AT RISK - UN http://sco.lt/9FQw3F
Mongabay, January 17, 2014
-▶ COURT ORDERS LOGGING COMPANY TO CLEAN UP POLLUTION DISASTER IN CHILE WETLANDS http://news.mongabay.com/2014/0117-green-chile-wetlands-pollution.html
NOAA Fisheries
-▶ WHY WETLANDS MATTER:
Status and Trends of Wetlands in Coastal Watersheds INFOGRAPHIC http://www.nmfs.noaa.gov/stories/2013/11
March 13, 2012 Terra Daily
-▶ 15-YEAR STUDY: WHEN IT COMES TO CREATING WETLANDS, MOTHER NATURE IS IN CHARGE http://www.terradaily.com/reports/15_year_study_When_it_comes_to_creating_wetlands_Mother_Nature_is_in_charge_999.html
Huffington Post Miami, January 10, 2014
-▶ FLORIDA EVERGLADES RESTORATION PROJECT PRODUCES QUICK SUCCESS http://www.huffingtonpost.com/2014/01/10/c-111-canal_n_4578337.html
LOVELY VIDEO
AWHAR:
RESTORING THE MESOPOTAMIAN MARSHES IN IRAQ
Full Episode
Press of Atlantic City, December 23, 2014
-▶ RISING SEA THREATENS WETLANDS AND SEAFOOD SPECIES, STUDY SAYS http://www.pressofatlanticcity.com/news/breaking/rising-sea-threatens-wetlands-and-seafood-species-study-says/article_f2107e94-6eaa-11e3-bfa3-0019bb2963f4.html
-▶ MORE ON WETLANDS FROM SCIENTIFIC AMERICAN http://www.scientificamerican.com/search/?q=Louisiana+Wetlands+Tattered+by+Industrial+Canals%2C+Not+Just+River+Levees+&x=12&y=6
Scientific American, December 14, 2013
-▶ LOUISIANA WETLANDS TATTERED BY INDUSTRIAL CANAL, NOT JUST RIVER LEVEES http://www.scientificamerican.com/article.cfm?id=carey-louisiana-wetlands-tattered-by-industrial-canals
Bloomberg BNA, December 13, 2013
-▶ EPA, CORPS SAY BENEFITS OF PROTECTING WETLANDS, STREAMS FAR OUTWEIGH COSTS http://www.bna.com/epa-corps-say-n17179880702/
Huffington Post Green, January 5, 2014
-▶ GREAT LAKES ONLY REGION IN U.S. TO GAIN WETLANDS, REPORT FINDS http://www.huffingtonpost.com/2014/01/05/great-lakes-wetlands_n_4545059.html
-▶ KILLING OFF BIODIVERSITY AND WILDLIFE DOESN'T PAY: DRAINED WETLANDS GIVE OFF SAME AMOUNT OF GREENHOUSE GASES AS INDUSTRY http://www.terradaily.com/reports/Drained_wetlands_give_off_same_amount_of_greenhouse_gases_as_industry_999.html
Environmental Protection, February 03, 2014
-▶ REPRIORITIZING WETLAND PROTECTION THROUGH SEQUENCING. Wetlands serve to protect, enhance, and maintain the physical, chemical, and biological integrity of the aquatic ecosystem. They are crucial to the maintenance of safety and welfare for human health and all associated environmental components http://eponline.com/articles/2014/02/03/reprioritizing-wetland-protection-through-sequencing.aspx
allAfrica, January 07, 2014
▶ AFRICA: OUR MODERN, WESTERN AGRICULTURAL SYSTEM IS DESTROYING THE EARTH AND OUR HEALTH.
Today our food comes from across the world. More importantly, it is often produced in highly destructive ways, at the lowest possible cost.
Consequently our food production system is responsible for accelerating the rate of destruction of the very ecosystems we are reliant upon in order to maintain our delicate global environmental equilibrium.
We cut and clear the lungs of the world, our tropical rainforests, to feed livestock or grow dishonestly named "biofuels". We bulldoze natural filtration systems and the nurseries for life like wetlands and mangrove swamps to produce luxury foods for obese populations. http://allafrica.com/stories/201401071158.html?viewall=1
-▶ MANGROVES, REEFS, FOREST AND DUNES BEING OBLITERATED: DOUBLING COASTAL FLOOD IMPACT AND SPECIES EXTINCTION http://sco.lt/6tnLLF
January 26, 2012 Mongabay
-▶ PROTECTING ORIGINAL WETLANDS FAR PREFERABLE TO RESTORATION http://news.mongabay.com/2012/0126-hance_wetlands_restoration.html
Grist, January 29, 2014
-▶RICE PADDIES PROVIDING RESPITE FOR MIGRATORY BIRDS IN DROUGHT-RAVAGED CALIFORNIA - WETLANDS ALMOST DISAPPEARED http://grist.org/news/rice-paddies-providing-respite-for-birds-in-drought-ravaged-california/
The Sacramento Bee, February 01, 2014
-▶ PROLONGED DROUGHT DRIES UP RICE FIELDS, FORCES BIRDS FROM CALIFORNIA CENTRAL VALLEY "SURROGATE WETLANDS" http://www.sacbee.com/2014/01/31/6117139/prolonged-drought-forces-birds.html
September 5, 2013 Natural England
-▶ RECORD BREAKING SUMMER FOR SOMERSET'S WETLAND BIRDS http://www.naturalengland.org.uk/ourwork/conservation/biodiversity/avalonmarshesegretsfeature.aspx
September 5, 2013 Red Orbit
-▶ WETLANDS SERVE AS NATURAL SOURCE FOR IMPROVEMENT OF STREAM POLLUTED BY ACID RAIN http://www.redorbit.com/news/science/1112940260/wetlands-key-in-revitalizing-acid-streams-090513/
--- WATCH --
EDGE OF THE EVERGLADES - THE BIG CYPRUS SWAMP
http://www.youtube.com/watch?v=AHDHbzQPJcA
July 4, 2013 | Science Matters | David Suzuki Foundation
-▶ WORKING WITH NATURE CAN PROTECT US FROM FLOODS - RESTORING WETLANDS: The business case for maintaining and restoring nature's ecosystems is stronger than ever... http://www.davidsuzuki.org/blogs/science-matters/2013/07/working-with-nature-can-protect-us-from-floods/
July 16, 2013 Global Possibilities
-▶ PROTECTING NATURE IS THE BEST WAY OF PROTECTING OURSELVES FROM RISING TIDES AND STORMS http://www.globalpossibilities.org/heres-an-easy-way-to-protect-coastal-communities-from-rising-seas-and-storms/
January 18, 2013 Guardian
-▶ RIVERS, LAKES AND WETLANDS; COULD WATER BECOME THE WORLD'S BIGGEST MARKET? http://www.guardian.co.uk/global-development/poverty-matters/2013/jan/18/rivers-lakes-wetlands-water-market
-▶ RESTORING RIVERS: THE LIFEBLOOD OF BOTH HUMAN AND ECOLOGICAL COMMUNITIES http://sco.lt/5tVYLB
WATCH
FROGS: THE THIN GREEN LINE - A WORLD WITHOUT FROGS
November 9, 2012 Living on Earth
-▶ WETLAND DESTRUCTION THREATENING RUSSIA'S SPOON-BILLED SANDPIPER
http://www.loe.org/shows/segments.html?programID=12-P13-00045&segmentID=5
March 11, 2012 The Globe and Mail
-▶ REBUILDING WETLANDS DESTROYED BY OIL SANDS MAY NOT RESTORE IT, RESEARCHERS SAY http://www.theglobeandmail.com/news/national/rebuilding-land-destroyed-by-oil-sands-may-not-restore-it-researchers-say/article2365858/
Great Lakes Echo, January 06, 2014
-▶ RESTORING LAKE ERIE'S LARGEST WETLAND http://greatlakesecho.org/2014/01/06/restoring-lake-eries-largest-wetland/
August 22, 2013 Inter Press Service
-▶ NEW DELHI: ANGRY BIRDS SKIP POLLUTED DELHI - WETLANDS DISAPPEARING http://www.ipsnews.net/2013/08/angry-birds-skip-polluted-delhi/
February 3, 2012 Phys.Org
-▶ DEFORESTATION THREATENS BRAZIL'S WETLAND SANCTUARY http://phys.org/news/2012-02-deforestation-threatens-brazil-wetland-sanctuary.html
-▶ WHY IS BIODIVERSITY IMPORTANT? http://www.naturalengland.org.uk/ourwork/conservation/biodiversity/importance/default.aspx
-▶ LARGE-SCALE BIODIVERSITY IS VITAL TO MAINTAIN HUMAN AND ECOSYSTEM HEALTH http://sco.lt/8amPlR
Grist, December 20, 2013
-▶ WATER & OIL: ONE BATTLE TO SAVE THE SACRED HEADWATERS END, ANOTHER BEGINS http://grist.org/climate-energy/shell-game-one-battle-to-save-the-sacred-headwaters-ends-another-begins/
Guardian Environment, October 12, 2013
-▶ BRITAIN'S LOST RIVERS RESURRECTED AND FREED TO GO WITH THE FLOW http://www.theguardian.com/environment/2013/oct/13/britain-lost-rivers
-▶ STATE OF THE WORLD'S BIRDS REPORT INDICATES A PLANET IN PERIL http://sco.lt/4yq6z3
-▶ RESTORING THE EARTH: THE BONN CHALLENGE http://sco.lt/4p7B3Z
-▶ WEB-OF-LIFE UNRAVELLING - Healthy Ecosystems Vital for All Planetary Life http://sco.lt/7Obz0L
-▶ DAMS, ECOCIDE AND WATER RIGHTS -▶
BIG MONEY DRIVES EXTINCTION
Indigenous Communities, EcoSystems, Forests Devastated
-▶ CONTEMPORARY AGRICULTURE IS BURNING UP OUR PLANET http://sco.lt/99tRI1
-▶ PESTICIDES FOR BIG AG ARE KILLING OUR PLANET: DECIMATING POLLINATORS, DRAGONFLIES AND OTHER AQUATIC INSECTS -- AND YOU http://sco.lt/5XzNlx
▶ WETLANDS INTERNATIONAL http://www.wetlands.org/
Wetlands Database, Swamp Forests, Mangroves, Peatlands